Exclusive: It's been a life-changing 12 months for OCL fan Chris
Date published: 23 April 2021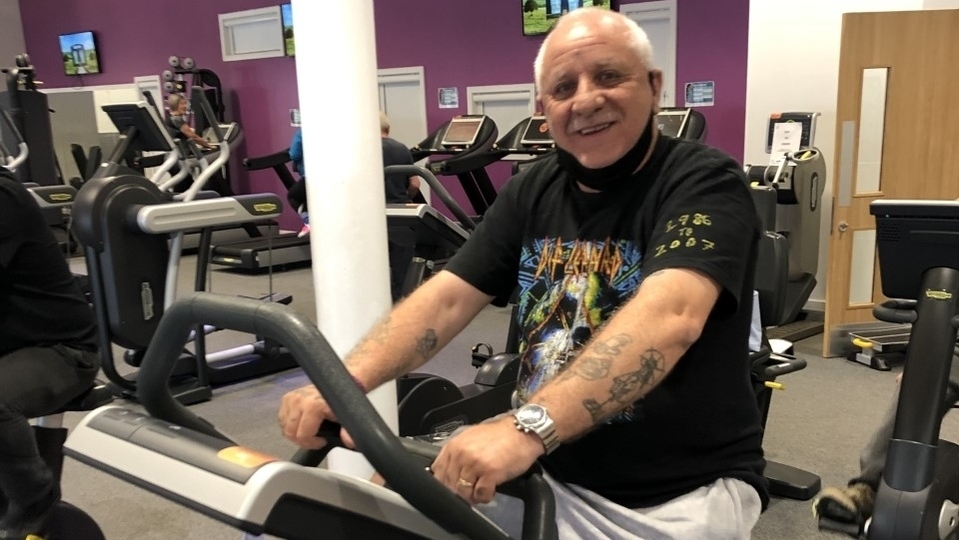 Chris, who suffered a heart attack exactly one year ago, is a full-time carer for his wife, Shirley
Lockdown has affected us all in different ways.
When it comes to physical activity, some of us have stepped things up - going running for the first time or taking long walks.
Others will have experienced illness, had to care for others or simply found it all too much.
As lockdown eases and our leisure centres and gyms reopen, the Chronicle will explore what getting fit means to some people from our Oldham community.
This week we talk to local man, Chris Gorey, who is 58.
Chris, who suffered a heart attack exactly one year ago, is a full-time carer for his wife, Shirley.
Chris was first in line to get back to Oldham Community Leisure's (OCL) Royton Leisure Centre and has returned to the gym every week day since its reopening in April.
Chris said: "My heart attack was a real wake up call for me.
"I've had two stents fitted and a diagnosis of Acute Coronary Syndrome, and have been put on medication for life; I'm under consideration for a bypass too.
"In addition, I also suffer with arthritis in my neck and shoulders.
"Following my heart attack, my physiotherapists at the hospital referred me to the exercise Reach Scheme run by OCL.
"To be honest, I'd never been to a gym before.
"I really didn't think it was my kind of thing.
"I was worried that people would stare at me and that I would feel out of place.
"But I was SO wrong."
Chris met with Jason Bailey, a Health and Wellbeing Officer at OCL, who welcomed him to the centre, went through a series of health questions and devised a personalised fitness plan.
He also talked him through all the health and safety procedures they have put into place to keep their facilities covid secure.
Chris said: "Jason has kept me motivated and has become my biggest cheerleader.
"He really understands what success means to me.
"I simply wouldn't have done it without his support."
Even when the UK went into a third lockdown in December, Chris continued to work out with the OCL team online, and bought himself some resistance bands and dumbbells.
Chris added: "I've met a fantastic group of people at Royton Leisure Centre, and we have fun as well as exercise.
"We also keep in touch outside of the leisure centre and it is great to know we can support each other, having been through similar experiences.
"During lockdown, I was really grateful to keep my exercise up virtually, it gave my day purpose and kept me connected to the outside world."
He went on: "I was genuinely excited to get back the gym.
"I pre booked my first session back on Monday, April 12, and I have been back every weekday since.
"It's fantastic.
"I can't believe how much my life has changed in 12 months.
"I've changed my diet, incorporating more fruit and vegetables, I've cut my 30-a-day cigarette habit down to just one.
"I've made realistic lifestyle changes, drinking more herbal green teas and getting out for walks too.
"I've made more friends, and the gym gives me both a psychological and physical lift from my daily care responsibilities.
"I feel much healthier and happier, which makes everyday life easier.
"My doctor has confirmed that my cholesterol levels are now normal and my blood pressure has vastly reduced.
"It's been a challenging year for everyone, and I'm a perfect example to other people to give exercise a go and I'd encourage anyone to try.
"To keep busy, to keep active and to stay positive.
"I really wouldn't be without the leisure centre now, and I truly think Royton Leisure Centre is the best club in the world."
---
Do you have a story for us? Want to tell us about something going on in and around Oldham? Let us know by emailing news@oldham-chronicle.co.uk , calling our Oldham-based newsroom on 0161 633 2121 , tweeting us @oldhamchronicle or messaging us through our Facebook page. All contact will be treated in confidence.