Cervical Screening Awareness Week: Smear tests are 'so important', insists Toni
Date published: 16 June 2021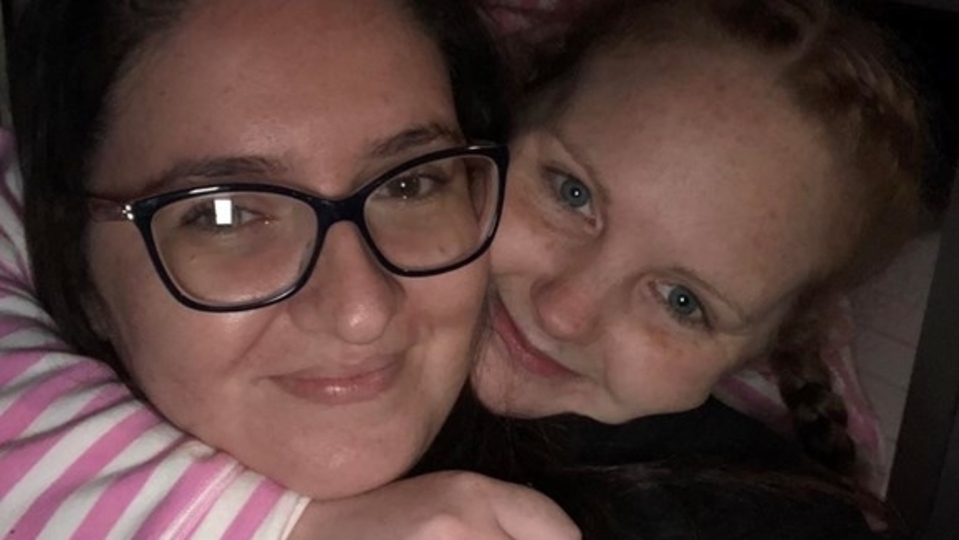 Toni Kernan felt like a healthy 28-year-old when she was diagnosed with cervical cancer
It's Cervical Screening Awareness Week (June 15-20) and the Macmillan Gynaecology Nurses at The Royal Oldham Hospital are raising awareness not only about the importance of cervical screening, but also human papillomavirus (HPV) and its link to cervical cancer.
Macmillan Gynaecology Clinical Nurse Specialist, Amanda Storey and her team are supporting patients like Toni Kernan and her family, and stories like Toni's highlight the importance of taking up regular cervical screening checks.
HPV is a common virus that is passed on through skin-to-skin contact.
It infects the skin and any moist membrane (mucosa) such as the cervix, the lining of the mouth and throat, the vagina, vulva and anus.
Certain types of HPV can cause cervical cell changes that can develop into cervical cancer.
That's why it's important that women take up regular cervical screening checks to pick up any cell changes early on.
Toni's story
Toni felt like a healthy 28-year-old when she was diagnosed with cervical cancer.
At the beginning of 2020, Toni and her partner Jordan were excited to be starting fertility treatment so that they could have a family.
During her first fertility appointment, abnormalities were picked up and Toni was advised to attend for a smear test before proceeding.
Toni said: "I was three years late, but I went for my first smear when I was 28.
"At my fertility appointment, they told me that they thought I had two cervixes, but perhaps it was the cancer they could see."
The cervix is the opening from the womb to the vagina.
A smear test (also known as 'cervical screening') is not a test for cancer; it is a health check of the cervix which helps to prevent cancer.
During the screening procedure, a small sample is taken and then checked under the microscope for certain types of the human papillomavirus (HPV).
This virus can cause changes to the cells in the cervix which can eventually lead to cancer.
Toni's smear showed she was positive for HPV and she was told she had abnormal cells.
She was referred to the hospital where further tests showed that she had cervical cancer which had spread to some of her lymph nodes.
In April 2020, Toni began treatment at the Christie to treat her cancer.
She had five weeks of chemotherapy and radiotherapy together (known as chemoradiotherapy), followed by two sessions of brachytherapy.
Toni said: "The brachytherapy was internal radiotherapy.
"It took 18 hours and I had to lie still and be turned by nurses regularly.
"The hardest part about chemo was being young and looking well in a room of people who all looked very poorly.
"It was scary, but I felt the best thing I could do was smile and stay positive.
"I think that helps other people too, however they might be feeling."
Toni thinks that there needs to be more education around smear tests, especially in schools.
She said that she had seen lots of written information on smear tests, but it had not been talked about enough.
She feels that people should be offered their smear test earlier; as soon as they are sexually active, and that this should be part of sex education classes at school.
Smear tests aim to detect human papillomavirus (HPV) and pre-cancerous changes.
It can then be treated before it gets the chance to turn into cancer.
Toni now encourages all those who are eligible to attend for their smears on time, so that any problems can be caught early before they turn into cancer.
She said: "I talk to everyone about it.
"Having your smear is so important."
Macmillan Gynaecology Clinical Nurse Specialist, Ms Storey wants to encourage all women to take up their smear.
She said: "I want to normalise conversations about smears.
"I want people to talk about going for a smear as normally as they would talk about going for a haircut."
Ms Storey wants to bust the myth that smear tests are for diagnosing cancer.
She said: "The aim of the smear test is to detect any precancerous changes and treat as needed, to prevent it developing into cancer.
"That's why it's so important that people take up their smear and attend appointments on time."
Macmillan Gynaecology Nurses like Ms Storey and her team support women like Toni through their diagnosis and treatment for gynaecological cancers, offering expert advice throughout the patient journey.
Toni completed her treatment one year ago.
She returned to work in May, starting a new, full time job.
Toni and her partner Jordan have also moved to a bigger house and plan on starting the adoption process in the near future.
She still feels quite tired since her treatment, a common long term consequence of cancer treatment, but otherwise she has recovered well.
She said: "Hopefully, I can go back to the gym at some point and that will help with my energy.
"Otherwise, I'm doing well and everything is looking up.
"I'm a positive person and feel positive about the future."
If you'd like to find out more about cervical screening or cervical cancer, visit Jo's Cervical Cancer Trust website here
---
Do you have a story for us? Want to tell us about something going on in and around Oldham? Let us know by emailing news@oldham-chronicle.co.uk , calling our Oldham-based newsroom on 0161 633 2121 , tweeting us @oldhamchronicle or messaging us through our Facebook page. All contact will be treated in confidence.