Opposition grows to Clean Air Zone in Greater Manchester
Date published: 04 January 2022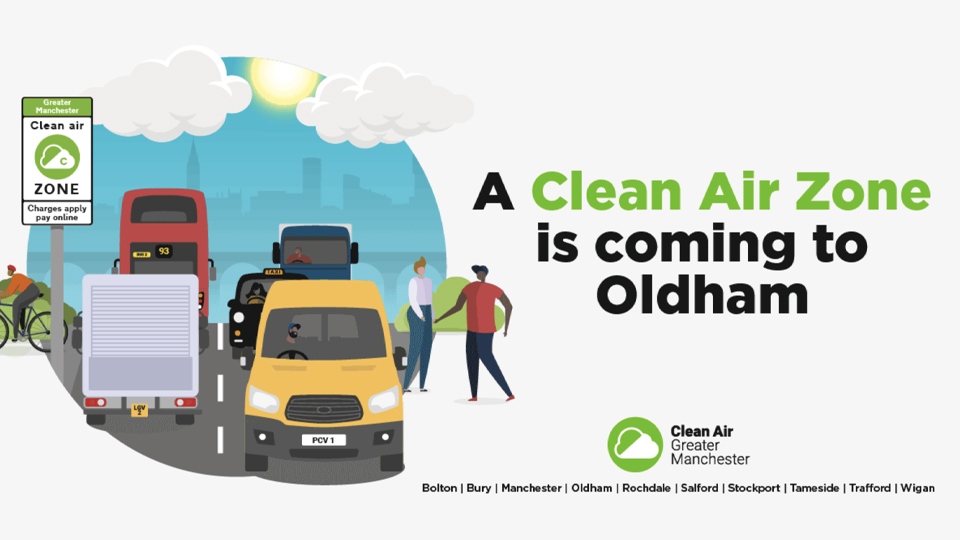 Vehicle owners can use the online checker to see if they are affected
Dubbed 'Manchester Mayor Andy Burnham's Clean Air Charge' the petition has now passed the 14,000 signature mark prompting the Mayor to take to social media to respond.
Signs promoting the controversial charge, which could effect vehicles in Oldham as well as other parts of Greater Manchester, have been seen dotted around the region along with the start of installing the road side cameras which would be used to enforce the charge.
Automatic Number Plate Recoginition technology would be used to enforce the daily charge, which ranges from £7.50 to £60 depending on the vehicle, and anyone failing to pay could be fined £120 plus the daily charge.
In response to the online petition, Mr Burnham said: "Given the number of names on this petition has gone over 10k, I thought I owed everyone who has signed it the courtesy of a reply.
"So here is an explanation of how we got to this point and a suggestion of where we go from here.
"Calling this 'Andy Burnham's Clean Air Charge' implies two things: (1) that I instigated it; (2) that I have the legal power to stop it.
"Neither is true.
"The Government initiated the process which led to this and only they have the power to stop it or delay it.
"This said, even the Government would struggle to scrap it. In 2015, the Supreme Court ruled: a) it had broken the law by failing to protect people from polluted air (b) urgent action must be taken.
"This led to the Government placing legal instructions on local councils.
"As a result, all 10 GM councils were directed to reduce air pollution by 2024. This is because analysis has shown all 10 GM boroughs have places where air pollution breaches legal limits.
"The Government's direction sets a Category C zone as the default solution.
"One criticism of the GM scheme is its size. It's true this is a local decision. In effect, our councils had little choice. The alternative - a patchwork of local zones across 10 boroughs - would be unworkable. Boundaries would constantly change as pollution was transferred.
"While the decision rests with our councils, I was involved in all the discussions and together we agreed our best approach was to: exclude cars; accept a wide zone; and fight for financial support to help people change vehicles. After all, we'll all benefit from cleaner air.
"To be fair, the Government has provided £120M. But there are two big problems: 1. They refused our request for extra funding for people on low incomes with the oldest vehicles. 2. Growing supply chain issues affecting prices and people's ability to find a compliant vehicle."
Mr Burnham concludes "I believe the right way to go from here is for GM to fight as one for changes to the scheme to protect jobs and businesses.
"We will publish our proposals shortly as part of a GM campaign.
"We hope everyone who has signed this petition will feel able to get behind it."
The scheme is due to be phased in between May 2022 and June 2023 with charges varying from £7.50 to £60 daily for non compliant HGVs, buses, coaches, vans, mini-buses, taxes and certain categories of motorhomes.
Private cars, motorbikes and mopeds won't be affected.
More information about it can be found here, including financial help, visit https://cleanairgm.com/