National Blood Week: More than 10,000 new blood donors are needed in Manchester to meet demand
Date published: 13 June 2022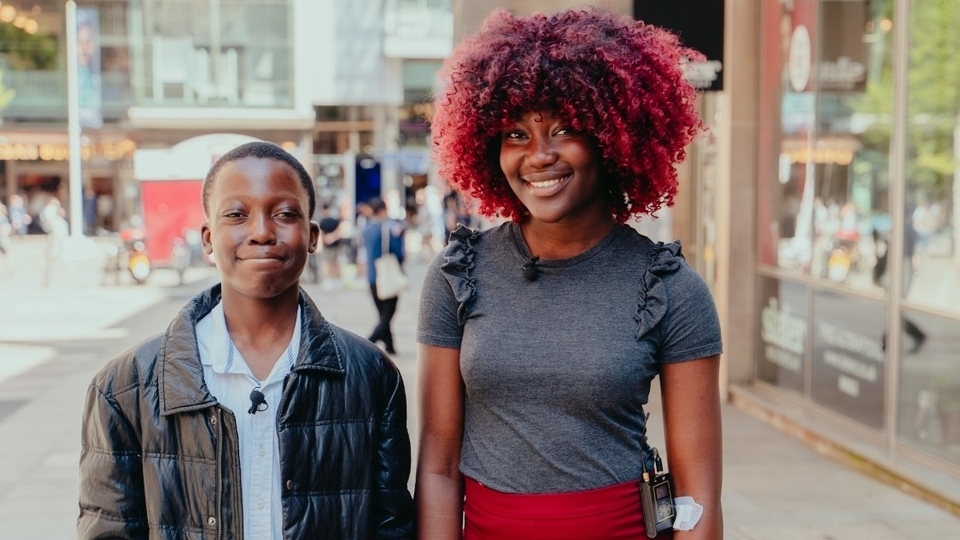 Charming and his sister Zenith
NHS Blood and Transplant are urging people in and around Manchester to give blood as new targets reveal 10,178 new donors are needed in the region to save lives over the next year.
Nationally one million more blood donors are needed over the next five years to ensure patients receive the right type of blood to save and improve their lives, with a particular need for Black African, Black Caribbean and younger donors.
The five-year Blood Service Strategy, published today at the start of National Blood Week, sets ambitious plans to recruit up to a million new donors and double the number of regular donors with the rarest blood types.
This will ensure better matched blood types for patients in the future and reduce health inequalities.
Most people know the main blood types - O positive (35 per cent of the population), O negative (13 per cent), A positive (30 per cent), A negative (8 per cent), B positive (8 per cent), B negative (2 per cent), and AB positive (2 per cent).
But the public is less familiar with the many sub-types that can provide an even better match to improve their treatment.
There is a particular urgency for more donors of Black African and Black Caribbean ethnicity to treat people with sickle cell.
Sickle cell is the fastest growing genetic blood disorder in the UK and mostly affects people of Black heritage.
It requires regular transfusions – most often with the specific blood sub type Ro.
Most patients are children, and demand for Ro blood is projected to double from 2016/17 – 2025/26.
Fifty-five per cent of Black blood donors have the Ro subtype compared to 2.4% of donors from other ethnicities.
Stephen Cornes, Director of Blood Supply at NHS Blood and Transplant, said: "Currently we can only meet around half of the demand for Ro blood through our existing donor base and demand for this rare blood type is rising.
"This means many sickle cell patients often receive less well-matched blood which, while clinically suitable, can pose a longer-term risk to patients who receive regular transfusions.
"We urgently need new Black African and Black Caribbean donors to come forward and donate blood.
"In addition to the rarest blood types, we also need 1 million new donors over the next five years of all blood types.
"As the NHS treats more patients, we need to grow the total number of donors too.
"We carefully manage stocks to ensure we do not waste any precious blood.
"If you cannot get an appointment immediately it is because we have enough of your blood type right now.
"Please book for a later date or respond when we contact you."
Blood donation generally takes up to an hour and you will be doing something amazing.
Once donated, blood is taken to NHSBT laboratories where it is divided into:
Platelets: Platelets help to stop bleeding and can be donated directly. Donors with A negative, A positive or AB negative blood are mostly needed. 69 per cent treat people with cancer, 17 per cent helps people after surgery, 8 per cent treat diseases, and 6 per cent help adults and babies in intensive care.
Red cells: two thirds are used to treat a vast range of conditions including sickle cell, anaemia, cancer and blood other disorders. One third is used in surgery and emergencies including childbirth.
Plasma: 17,000 people are treated with medicine made from plasma. Plasma can be used to stop blood loss in trauma patients and is also made into a medicine for people with weak immune systems. People can also donate plasma directly.
NHSBT carefully manages blood stocks to ensure the system is as efficient as possible.
Red blood cells have a shelf life of 35 days, although some of the ultra-rare types are stored in NHSBT's frozen blood bank in Liverpool.
Appointments to donate blood are arranged based on a donors' blood type to meet future patient needs.
Knowing our type is an essential part of being a next-generation donor.
A mass public campaign is being held this National Blood Week and throughout June to identify people with most needed blood types.
Young people and those of Black African or Black Caribbean heritage are being urged by the NHS to find out their blood type, by making their first donation at one of the many events being held at Blood Donor Centres in England.
Future donors of Black ethnicity will help the growing number of children with Sickle Cell in the UK, like 17-year-old Charming Seyi-Abiodun, from Gorton, who was diagnosed with sickle cell at birth.
He had his first painful episode, known as a crisis, when he was 22 months.
When he was five he began experiencing more crises and doctors were concerned about his increasing risk of a stroke.
Charming started blood transfusions at the age of seven to help treat and prevent the painful symptoms and complications.
He now has red cell exchanges every month which help him to lead a normal life.
Charming, who is studying for a BTEC in Engineering at Hopwood Hall College in Middleton, said: "Every day was a struggle.
"The fatigue, the aches and pains - it felt like my joints were rusting up.
"Now, after a blood exchange I feel good.
"When I am closer to my next transfusion due date I start to get tired again.
"The blood donated has helped me to feel better every day - I am running and playing with my friends so I feel very thankful and grateful for blood donors."
Attend a What's Your Blood Type event or register today and book an appointment by visiting: blood.co.uk, downloading the GiveBloodNHS app or by calling 0300 123 23 23.
Or if you are an existing donor and have not donated in a while, please book your next appointment, or keep checking back for future appointments.
---
Do you have a story for us? Want to tell us about something going on in and around Oldham? Let us know by emailing news@oldham-chronicle.co.uk , calling our Oldham-based newsroom on 0161 633 2121 , tweeting us @oldhamchronicle or messaging us through our Facebook page. All contact will be treated in confidence.