Clever reworking of dated drama
Reporter: Paul Genty
Date published: 02 December 2015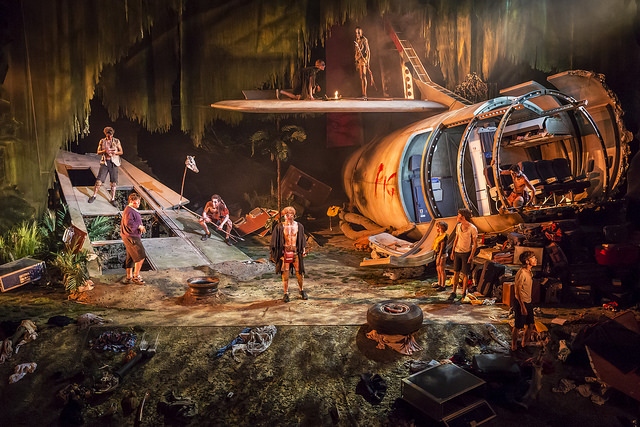 Regent's Park Theatre's impressive set for Lord of the Flies at The Lowry
LORD OF THE FLIES, Lowry, to Saturday

SHORT, sharp and shocking, William Golding's novel changed the way society looked at itself and the way nature can overthrow nurture if the circumstances are right.

I can't say I have ever been entirely convinced by the depths to which the boys, crash-landed on a desert island and thus with no adult rules, descend into barbarism and murder, but adapter Nigel Williams makes the case with great vigour.

But as the years go by, the original starts to look a little dated: man's cruelty doesn't much change and is scarily well represented, but the trappings of the story perhaps do.

Though director Timothy Sheader for the Regent's Park Theatre Company has mildly updated things to the present day — these boys take selfies and listen to Miley Cyrus until the batteries fail — Golding's story is still very much about Fifties prep school teens in manner and style. If truly of today, the boys and their attitudes would, I suspect, be very different.

But the show impresses even if the story no longer does. A terrific set features a crashed aeroplane fuselage, tailplane and wing, lots of baggage and foliage and a busy, boys-in-the-jungle atmosphere, and the show bristles along with the boys' descent from crash to factionism and murder covered in less than an hour.

The second half isn't so effective, but then neither is the book as the tale falls into mumbo jumbo about beasts and spirits and there's a lot of bounding around like bad boys in any jungle story of colonial adventure tales - except with added murder.

Performances are strong, though. To sustain their level of energy across several performances a week for several weeks is no mean feat, and highly watchable are Connor Brabyn as Jack, the choir boy turned killer; Luke Ward-Wilkinson as Ralph, the boy who at least tries to maintain some semblance of humanity, and Anthony Roberts as Piggy, the most derided and hated and, of course, the most level-headed one of the bunch.

Also fascinating is the way the barbarism ceases immediately an adult rescuer joins them, and the killers resume their angelic sheepishness like it was all some kind of dream.

Cleverly done.