Carillion apprentices handed another chance with Guinness Property
Date published: 13 March 2018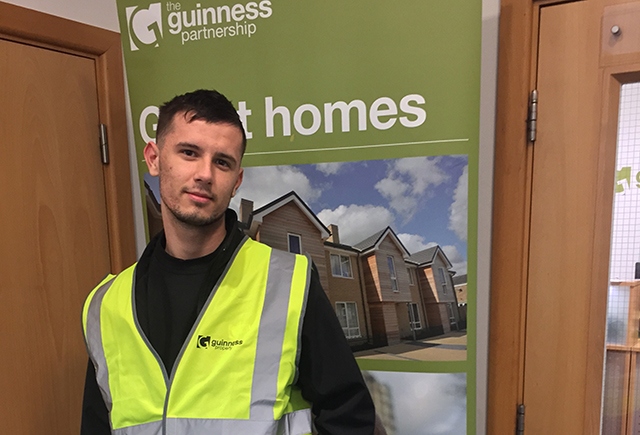 Reece Birrell, an apprentice joiner from Oldham, has joined Guinness Property
Two apprentices from Oldham have found new roles with Guinness Property after being left jobless by the collapse of Carillion.
Guinness Property, a housing maintenance company owned by social housing provider The Guinness Partnership, have offered apprenticeship opportunities to four former Carillion apprentices in total, including a plumber and a joiner in Oldham.
After the construction business went into liquidation last month, Carillion's 1,400 apprentices were out of work.
Guinness Property jumped at the chance to create new opportunities and have now recruited the Oldham-based apprentices to work on empty homes and in their fire risk assessment team.
Paul Roberts, Executive Director of Guinness Property, said: "When we heard what had happened, we got in touch with Carillion.
"Our Senior HR Manager, Dawn, has been working closely with our property teams and the CITB (Construction Industry Training Board) to advertise vacancies we have available.
"We've created these apprenticeships solely for former Carillion apprentices as we wanted to help out.
"We really value the apprentices we already have at Guinness Property, so it made sense to make sure these young people still have opportunities available to them in order to complete their apprenticeships."
Guinness Property have also opened up apprentice joiner and electrician roles in other areas of the country for former Carillion workers, and hope to set up interviews for these in the coming weeks.
"Our new recruits are enthusiastic, of good calibre and are already impressed with the work planned for them," added Roberts.
"We're confident we can fill all of the roles we've created with more young people who are equally as keen as the one's we've already hired."