See the new Oldham Business Edge magazine - out now in print and digital
Date published: 03 May 2018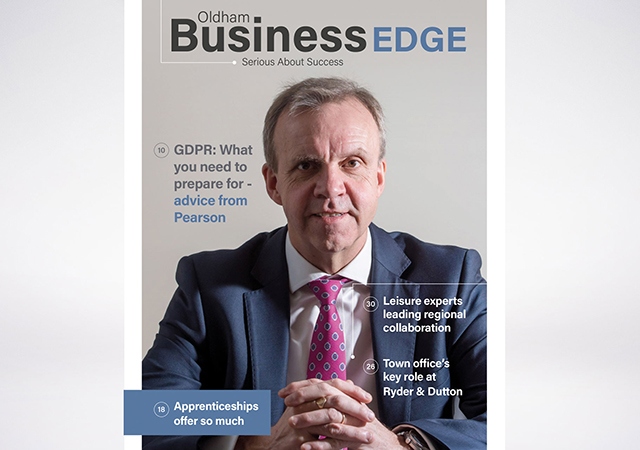 Quarterly digital and glossy magazine Oldham Business Edge is packed with news and in-depth features
Read the latest, free edition of Oldham Business Edge magazine, published in digital and print formats by the Oldham Chronicle Online under new owner radio station Revolution 96.2.
The quarterly digital and glossy magazine is packed with news, in-depth features and social events from across Oldham's business community.
The latest Spring 2018 edition carries an in-depth feature about the important new GDPR data protection regulation, which has just become law.
Dave Meredith, commercial consultant at Pearson Solicitors and Financial Advisers, explains how GDPR is a wide-ranging new EU law governing how businesses collect, store and use information within the European Union and globally. Regardless of Brexit negotiations, GDPR is now part of UK law too.
The new GDPR rules govern the use of data contained by businesses and organisations in both digital and paper formats.
The changes have key implications for employers and staff working at all levels and across many roles, including IT, administration, sales and marketing.
See Oldham Business Edge for the full report and expert advice from Pearson Solicitors and Financial Advisers.
Elsewhere, the latest edition includes news on the Oldham property market from Ryder & Dutton, apprenticeships from Oldham College, construction of a major new maintenance and service facility by First Choice Homes Oldham and the development of a new Greater Manchester-wide gym and leisure centre membership scheme led by Oldham Community Leisure.
Other news includes reports on furniture manufacturer Hill's Panel Products (HPP), civil engineers Edge Structural Design, M People recruitment, Fineline Interiors, fit-out specialists Medlock FRB, Energi Mine, Oldham Business Awards, O'Donnell Solicitors, Saddleworth wool manufacturer Shepley Yarns and Woolyknit, high-level engineers Delta International, Caremark Oldham, Remedian IT and Cornerstone Design & Marketing.
Oldham Business Edge magazine also has a column from Clive Memmott, the chief executive of Greater Manchester Chamber of Commerce, and great photos from the latest social events including Professional Oldham, Saddleworth Networking and Oldham Law Association.
See the free digital version of Oldham Business Edge here.
Alternatively pick-up free print copies at the following locations: Pearson Solicitors & Financial Advisers in Oldham town centre and at Hollinwood Business Centre, Ryder & Dutton offices, Chambers Business Centre, Oldham Training Centre, Oldham College, Oldham Library, University Campus Oldham and the office of Revolution 96.2, new owners of the Oldham Chronicle Online.