Ripple are the Topps!
Date published: 15 June 2018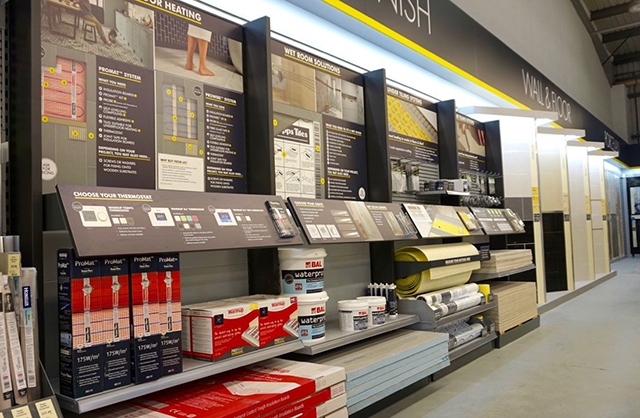 Examples of Topps Tiles wall bays designed and manufactured by Ripple
A leading designer and manufacturer of retail interior and display solutions has created a variety of new products for a UK-wide store improvement programme by Topps Tiles.
Oldham-based Ripple has created the products to improve communication, display and merchandising at Topps Tiles showrooms.
The development includes a new 'Trade Essentials' section to convey innovative features and applications of an extended range of trade tools and products.
The 'All-Store Improvement Plan' (ASIP) will require over a mile of wall unit fixtures across the 380 Topps Tiles showrooms in the UK.
These will be installed in various configurations to a programme expected to run to autumn 2019.
Following successful trials of the new wall units last year at showrooms in Rugby, Sevenoaks, Sheldon, Reading, Watford, Solihull and Enderby in Leicestershire, Topps Tiles saw significant sales improvements.
So, it decided to roll-out the improvements across its' whole retail estate.
Over recent years, locally-based Ripple said it has significantly contributed to the store format development for Topps Tiles.
Ripple creative director Scott Harrop said: "There are many benefits of achieving alignment of stores in addition to increased sales.
"These include operational efficiency and consistent product ranging, merchandising and communication at point-of-sale; which is designed to educate customers about new products, techniques and methods.
"The concept fits with Topps Tiles' ambition to grow its market share pursuing the company's strategy of 'out-specialising the specialist', while aligning the ranges, look-and-feel and in-store branding.
"The result is a fresh look and an environment which is future-proof, functional and flexible."
Ripple created a range of design options, prototypes and 3-D impressions for Topps Tiles.
All the equipment is manufactured by Ripple using a range of materials, but principally from fabricated mild steel finished with powder coating and laminated MDF board.
Ripple is manufacturing and supplying the equipment while installation is by separate contractors.
The company works across the UK and Europe and is part of Ripple Group, run by managing director David Wolfenden.
Its' design offices and manufacturing base are in Greenacres Road.
Ripple works across sectors including fashion, grocery, sport and leisure, entertainment, cookware, health and beauty, DIY and merchants, department stores, home décor, electricals and technology.
It works with brands and retailers including Akzo Nobel and Dulux Decorating Centres, Trespass, Majestic Wine, B&Q, Cheshire Mouldings, Boots, Trespass, Marshalls, B&M and Energizer.