HPP team's Saddleworth trek raises hundreds of pounds for Mahdlo Youth Zone
Date published: 19 July 2019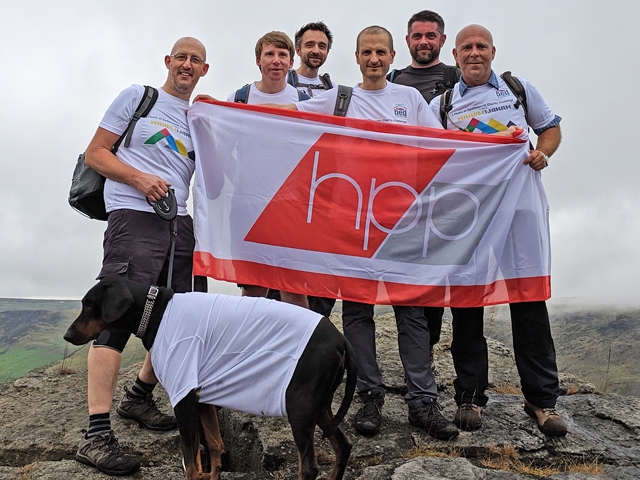 Back: (L-R): Matt Barker, Stuart Hyde, Henley Bailey, Dan Mounsey, Mark Staines, Shaun Nolan. Front: Brock the dog
A team of staff from furniture components firm Hill's Panel Products (HPP) in Oldham broke their target in raising almost £750 for the Mahdlo Youth Zone through a sponsored hike in Saddleworth.
The HPP staff joined the Three Peaks of Saddleworth Challenge on Saturday (July 6) to support youth charity Mahdlo, which organises the annual sponsored walk.
Dan Mounsey, HPP's marketing manager, was part of the works team who hoisted a company flag on Indian's Head, above Dovestone Reservoir, and then Pots and Pans, overlooking the hills, valleys and villages of Saddleworth.
He said: "It was a great day and we are delighted to have broken our original target of £500. The walk took in landmarks such as Pots and Pans, Indian's Head and Wharmton Hill. It was a challenging but really rewarding trek with some great views."
The team included Matt Barker, Henley Bailey and Mark Staines, all from HPP's marketing department; Stuart Hyde and Matt Barber, both from the firm's purchasing department; and Shaun Nolan, the company's national contracts manager.
Saturday's challenge included picnic and refreshments along the route, and a post-walk barbecue at the Royal George pub.
Dan added: "We want to thank everyone who sponsored us including HPP trade customers, colleagues, friends and families. Every donation was welcome and helped us break our target."
He said family-owned HPP has supported Mahdlo from its foundation in a number of ways.
"This has included financial support as a corporate sponsor and other types of support, such as hosting educational activities and practical design challenges for youngsters at the firm's HQ on Scottfield Road."
Earlier this year, HPP attended Mahdlo's annual Star Awards to celebrate the achievements of local youngsters from many different walks of life.
Donations can still be made to the HPP team's fundraising efforts through this Virgin Money Giving link.
Alternatively, donations and other offers of help can be made to Claire Crossfield at Mahdlo.