Professional Oldham networking event highlights updates to town centre
Reporter: Robbie Macdonald
Date published: 04 October 2019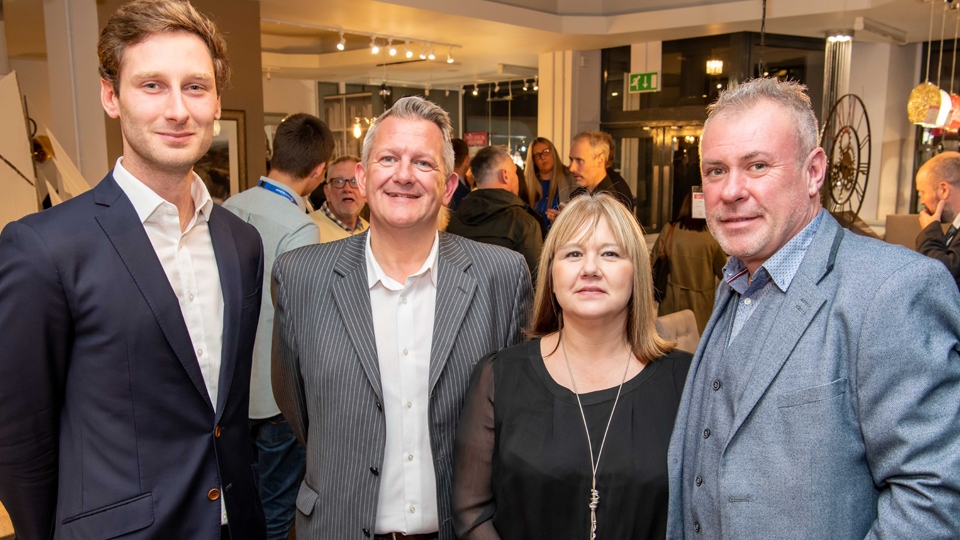 From left, Cllr Sean Fielding, Leader of Oldham Council; Glenn Drake-Owen of Breakey & Nuttall, and Lauren and Gavin Howarth, owners of the Furniture by Lauren shop.
Town centre developments and challenges took centre-stage at the latest Professional Oldham networking event.
Glenn Drake-Owen, of chartered surveyors and commercial property specialists Breakey & Nuttall, and Cllr Sean Fielding, Leader of Oldham Council, were joint speakers at the event held at the Furniture by Lauren furniture shop on Yorkshire Street.
The two-storey furniture shop is run by Gavin and Lauren Howarth and opened in 2017 in the former Kiss bar.
The ground floor has sofas, chairs, tables, dining furniture and soft furnishings while the basement has beds and bedroom furniture.
Mrs Howarth welcomed guests to the Professional Oldham gathering and said, "We are both born and bred in the borough and wanted to open a shop in Oldham.
"Gavin has a background in the furniture trade while my background is in nursing. It took a lot of work to open the shop, including help from Oldham Council, but in the past two years we've built a local and loyal customer base.
"We are a small business but we offer quality furniture and exceptional customer service. We have also just taken-on our first employee, which is great development."
Glenn Drake-Owen, associate partner at Breakey & Nuttall, outlined a range of recent and forthcoming developments on Oldham town centre.
Breakey & Nuttall focuses on commercial and industrial property and land, including offices, shops, salons, small workshops and large industrial premises.
He said, "Breakey & Nuttall is currently involved with three new sites opposite the Mumps Metrolink tram stop, and a new retailer on nearby Yorkshire Street. These are three exciting sites with a mix of retail, office and residential offerings."
Oldham town centre compared quite well with some other town centres, based on commercial property market rental data, he said.
Oldham town centre rents have been at the same average level since 2010 unlike some other town centres, which had suffered falls.
Rent stability was significant, he said, given the backdrop of austerity policies, the increase of former public sector buildings being put on the property market and the more recent business uncertainty surrounding Brexit.
He said Oldham town centre has £646 million worth of property assets which is higher than Rochdale, at £423million, and 'not far behind' Bury, which has asset values of £697 million.
The average length of time taken to find tenants or buyers for empty commercial property in Oldham had improved from 24 months five years ago to eight months now.
While still lengthy, the improvement was important and better than Rochdale, where the average time is 12 months.
He said, "In general, offices in Oldham are still over-supplied and under-subscribed.
However, we are seeing planning applications for changes-of-use to some of these buildings and many have been improved, making them easier to find tenants.
'The Manchester office market is very strong but with the Metrolink tram network in the town, I have relocated several business into Oldham from Manchester.
They are taking advantage of competitive office rents, increased parking provision, excellent transport links, and a good town centre offering for their staff.
"It is a good sign when I can report that we have recently sold the former County Court building for in excess of £1million to developers, who are confident in investing in Oldham."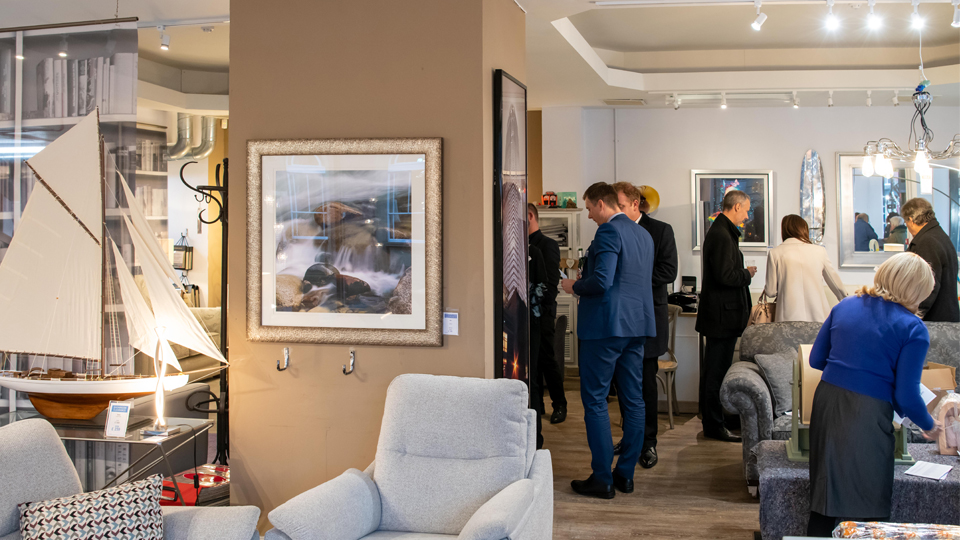 Cllr Sean Fielding, Leader of Oldham Council, gave an overview of recent years and updates on the council's current approach to the town centre.
He said some previous town centre development plans had not materialised, which was why reviewed the whole town centre masterplan after becoming leader.
Public sector changes through austerity had impacted with smaller council workforces and closure of buildings. However, the council was relocating staff from outlying offices, where possible, to help support the town centre.
However, new employment and skills in growing sectors are key target areas for the council.
For example, the council is increasing its profile at Greater Manchester regional level, which has a £7billion devolution deal in health sector spending, to boost the health-related jobs and developments in Oldham.
Greater Manchester engagement has also paid-off with the new Construction Skills Centre being built at Oldham College, he said.
Regarding Mumps, he said progress was finally being made with the 68-room hotel, the new Lidl supermarket and other developments which would support not undermine existing town centre retailers.
The old bank building at Mumps was being looked at along with the former railway corridor next to the town centre bypass.
Culture would be another key element of the town centre's future, making it distinct to many other towns. A new Coliseum Theatre would be built and its role as a production house in producing original drama, as opposed to simply accommodating touring national shows, was a vital, he said.
He had held meetings with Arts Council and Oldham is to bid for the Greater Manchester Town of Culture title.
Similarly, Gallery Oldham's events included distinctive exhibitions, such as the show by the sculptor Richard Long, which was promoted with a Metrolink tram poster campaign and attracted visitors from across the region.
Events are also important, such as the Illuminate procession in February brings thousands into the town centre.
Oldham Council was also in talks about government funding projects for town centres.
He added, "Despite our political differences, if there is money to put into the Egyptian Room at the Old Town Hall or transport, for example, we will engage with them."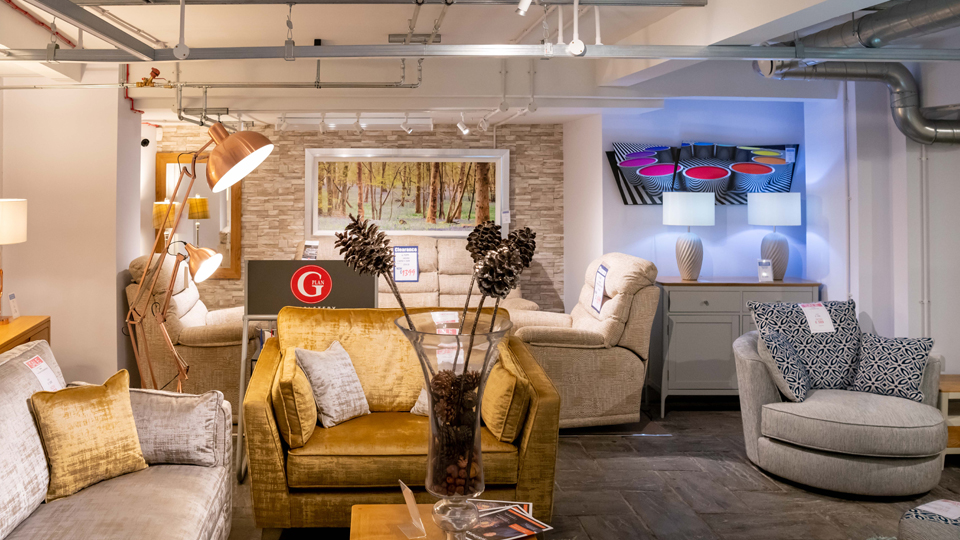 The event included a question-and-answer session, drinks and a buffet by Oldham Business Award-winning Arundel Bakery.
Topics during questions included the need to reform business rates, raised by ratings and appeals specialist Chris Stern of Breakey & Nuttall; tram commuter patterns between Oldham and Manchester, town centre car parking and developing the early evening economy between 5pm and 8pm.
More photos will appear in the forthcoming winter edition of Oldham Business Edge magazine from the Oldham Chronicle.
The current autumn edition includes in-depth features from Breakey & Nuttall, Pearson Solicitors & Financial Advisers, Cornerstone Design & Marketing, Oldham College and Oldham Community Leisure. To see the digital edition click here.
---
Do you have a story for us? Want to tell us about something going on in and around Oldham? Let us know by emailing news@oldham-chronicle.co.uk , calling our Oldham-based newsroom on 0161 633 2121 , tweeting us @oldhamchronicle or messaging us through our Facebook page. All contact will be treated in confidence.