Jujitsu: Eight-year-old Elle Usher gains a black belt
Date published: 17 October 2017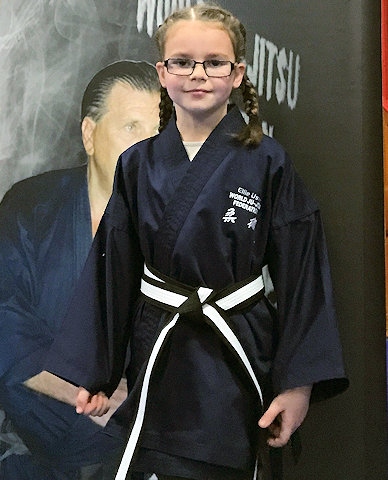 Elle Usher gains a Jujitsu black belt
Jujitsu is part of Lee Usher and his family's life and his eight-year-old daughter, Elle, has recently gained her black belt.

He said: "We went to Liverpool to the Clark Centre to represent our club Cherry Leaf Jujitsu and Ellie took her junior blackbelt in front of the examiners made up of the highest grades within the World Jujitsu Federation (WJJF).

"I believe Elle is the youngest WJJF black belt in the UK."

Elle follows the family tradition training hard every Tuesday and Thursday to follow in her dads and sister's footsteps.

Ellie's dad Lee is a Second Dan black belt and a Sensie at the club, her oldest sister Jade, at 17, is a senior black belt and her sister Natasha, 13, a junior black belt. Her little sister Lilly, five, has just started the journey.

Lee said: "Ellie and wants to continue to represent Cherry Leaf all over the world, her next stop is Istanbul in April 2018."