Euro glory for Kenny Karate Club
Date published: 02 February 2018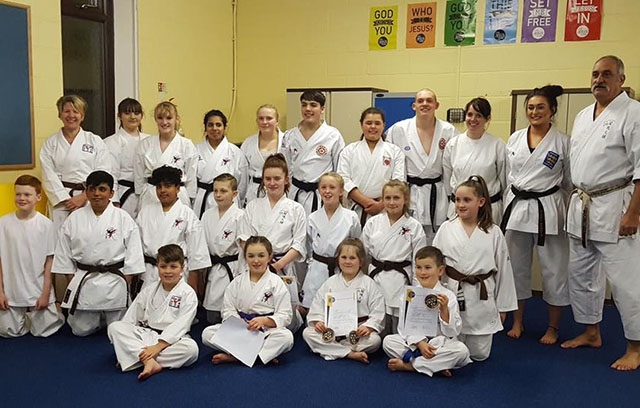 Kenny Karate Club members secured a heft medal haul in Italy
Fourteen members of the Lees and Greenacres-based Kenny Karate club did Oldham proud at the recent European Cup tournament, which took place in Montecatini, Italy.

All of the Oldham club's members that competed for Great Britain in Italy were aged between 10 and 25 years old, and all were crowned European champions or medalled in their individual categories.

Leading the way for Kenny Karate were three gold medal winners – Rosy Whittle, Erin Joyce and Miya Burke.

Erin was crowned European champion, while also bagging a silver medal.

Rosy and Miya won a gold and a bronze medal each.

Natasha Holmes secured four bronze medals at the tournament, while Lewis Kelly and Jamie Shemeld pocketed three bronzes each.

Mariyah Akhtar and Toby Wrigley both won a silver medal each, while Jamal Akhtar, Aqib Jawad and Autumn Holmes were each rewarded with a participation medal.

Since the Kenny Karate medal winners returned from Italy, they have been selected to represent England at the forthcoming World Championships, which takes place in Dundee, Scotland, in June this year.

Club team-mates Farrah Connor, Cathryn Russell and Alex Wheeler have also earned national call-ups.

That will be the first time the world championships has been held in the UK for 20 years, but entries and expense costs will come to approximately £1,500.

To that end, Kenny Karate chief instructor Ashleigh Kenny is seeking sponsorship and donations.

If you feel you might be in a position to help, Call Ashleigh on 07393 335948.