Boardercross ace Thomas hails an 'awesome' year
Date published: 12 March 2018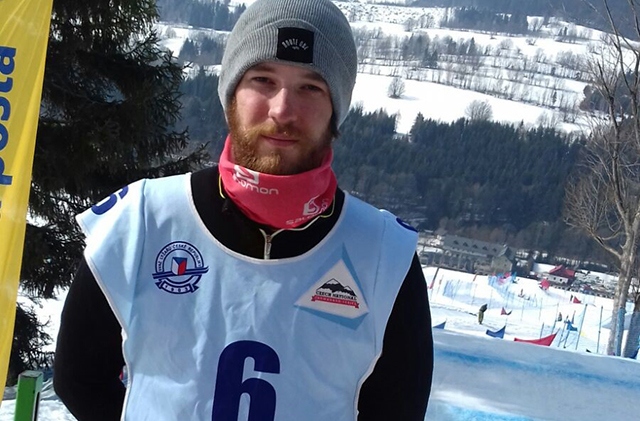 Thomas White gave up his job as a snowboard instructor at Trafford Park's Chill Factore to try out boardercross as a career
Shaw-born Thomas White has described his first full year training and competing in the exciting winter sport of boardercross as 'awesome'.
White gave up his job as a snowboard instructor at Trafford Park's Chill Factore to try out boardercross as a career after Great Britain coaches discovered he had a lot of potential in the sport.
He now trains and competes as part of the Great Britain boardercross squad.

White has been training full-time in Hintertux, Austria, as part of the GB squad since last October, and has had the opportunity to train alongside one of the current Winter Olympians - Zoe Gillings.

He took part in his first international boardercross tournament in the Czech Republic and finished sixth overall out of 32 competitors.

White – the brother of Oldham's Olympic gold-medal winning hockey star Nicola – competed in the Czech National Championships at the weekend and finished seventh despite going head-to-head with a number of world level competitors.
White said: "It's been an awesome first year training with the best of GB out in Austria.
"Racing is very different from freestyle snowboarding so I had to learn a whole new way of riding to be able to race at this level.
"I am learning and improving with each competition and look to make a bigger impact next season on the racing circuit.
"I think I have what it takes to become world class and the coaches have been extremely pleased with my progress.
"I came out to Austria with basic equipment not sure of how it would go.
"With better equipment my timings would improve and I could compete with the best so my next challenge is to get enough funding to be able to come out again next year properly equipped to compete on the world stage.
"It's been a lot of hard work, but I've love every minute of it."
White has competed in five competitions over the past two months, travelling in the team minibus to Austria, the Czech Republic and Italy.
He has another three or four competitions left to take part in before the end of the season, which finishes around Easter.