Chaddy boss salutes players after eight-goal thriller
Date published: 13 March 2018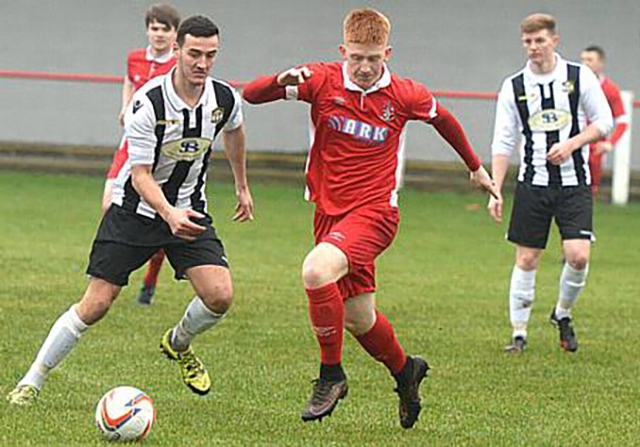 Aaron Scholes (centre) notched a late point-saver for Chadderton
Non-league football by Ryan Booth
Chadderton manager David Fish praised his players' efforts after his side's thrilling 4-4 draw with high-flying Litherland REMYCA at the ARK Fleetech Stadium on Saturday.
Jack Turnbull's hat-trick and a last minute penalty from Aaron Scholes cancelled out efforts from Paul Foy, Colin Quirk, Oscar Billington and Connor Murphy for the visitors as Chaddy earned a crucial point.
"I was incredibly proud of the players on Saturday," said Fish.
"There was a desire shown to keep going, character shown in matching a much more experienced side. and the quality of the football we played was excellent.
"The last 25 minutes saw a completely different side to our game. We showed a huge amount of belief and togetherness to keep driving forward and test REMYCA's resolve.
"We showed a lot of quality to unpick the opposition defence."
Fish couldn't contain his delight as Turnbull claimed a well-deserved treble, though he was also particularly pleased with homegrown player Joe Richards' contribution.
Fish added: "I was also especially pleased for two players on Saturday - Jack Turnbull and Joe Richards.
"Jack is a player who doesn't really have a set position and by his own admission isn't the most technical player in the squad.
"What he does have, though, is a love of playing and willingness to give his all no matter where he plays.
"His hat-trick included three quality finishes and means he has four goals in the three games he's started as a striker.
"Joe is a player who was thinking of leaving the club a couple of months ago, since then he's been working hard in training and playing well for the EDS.
"To win the match saving penalty on his debut on Saturday was his reward."
The stalemate means Chaddy now lie 18th in the Hallmark Security League First Division table, while REMYCA remain second, nine points adrift of table-toppers Silsden.
However, Chadderton have the chance to move five points clear of their nearest challengers when they host Lancashire side Bacup Borough this evening (kick-off 7:45pm).
Elsewhere, Mossley and Avro's respective fixtures at Colne and Bolton County were both postponed due to the weather.
The Lilywhites host Clitheroe at Seel Park this evening (7:45pm), while Avro's next game is this coming Saturday when they welcome Manchester Gregorians to the Vestacare Stadium (2pm).