Medals galore for Siam Camp in Thailand
Date published: 10 April 2018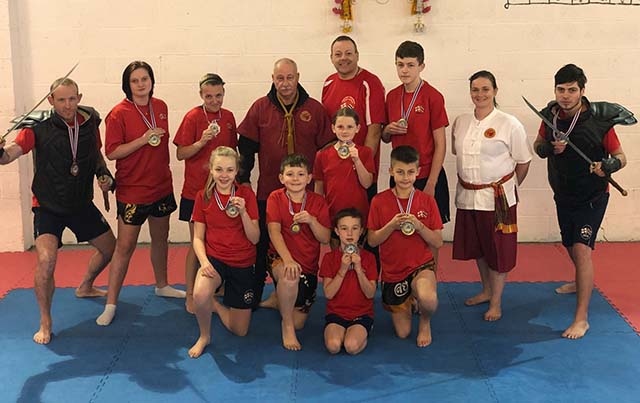 The Siam Camp World Boran Championship team
Talented students from the Siam Camp in Oldham did the town proud in Bangkok, Thailand, as they won medals galore at the fifth World Boran Championship, part of the third International and Thai Marital Arts Games and Festival.
Under the guidance and watchful eye of Grand Master Kevin Lloyd, the students qualified for the spectacular event which featured more than 700 athletes from 63 countries.
The Oldham students represented Team England, who were successful and brought home a total of eight gold medals, nine silver and three bronze's.
The Siam Camp Oldham and Huddersfield-based students who won medals were:
Gold Silver Bronze
Brogan Ashworth (-31kg) Andrew Ritchie ( - 28kg) Tony Hebergham (-91kg)
Katie Bowers (- 45kg) Michael Sweeney ( - 51kg)
Daniel Ferris (- 48kg) Aimee Ever-Buckland ( -48kg)
Melissa Sweeney (- 60kg) Zack Conway ( Adult Dab Thai)
Adam Bowers ( -63.5kg) Kully Singh ( Adult Dab Thai )
Tiree Conway ( -71kg) Dwight Brooks-Webster (Adult Dab Thai )
Maddison Jackson ( - 48 kg)
The Siam Camp is based at Belgrave Mill, Hathershaw, off Honeywell Lane in Oldham.
For more information, log on to: www.siamcam.com