Ladies Chronicle Cup showpiece set to tee off
Date published: 21 May 2018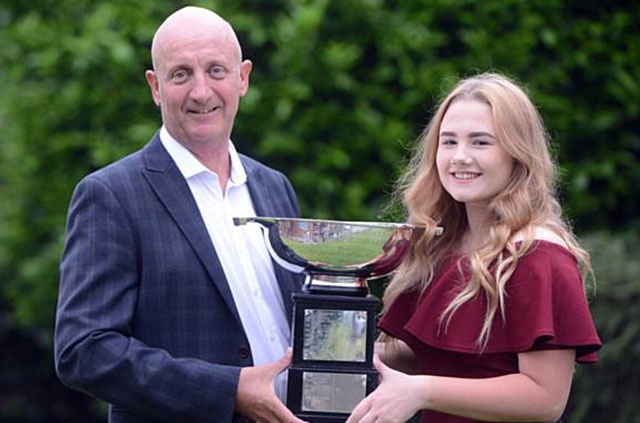 Carina Teirney receives the Ladies Chronicle Cup from David Whaley last year
The Chronicle Cup competitions have long been held as the pinnacle of achievement for local club golfers.
And, thanks to the continued support for the events from new owners Revolution, the Chronicle-supported events are here to stay.
The first of these is the Ladies Chronicle Cup, which will be played at Crompton and Royton on Wednesday (May 23).
Home player Carina Teirney defends the title she won in 2017 at Brookdale and she could well set a tough score for the rest of the 43-strong field to match as she is first out.
The eight handicapper plays alongside Kay Orme (6, Saddleworth) and Bev Scholes (10, Oldham).
Last year Carina, then 16, shot a brilliant seven-under-par nett 62 but still needed a six-hole playoff to beat Brookdale lady captain Stella Cain, who is amongst the later starts at the High Barn Street course this time around.
The organising committee from the Oldham Ladies Golf Association (OLGA) will also hold their traditional afternoon nine-hole fourball greensomes competition.
David Whaley, secretary of the Oldham and District Golf Society and a former managing editor of the Chronicle, will present the prizes.
The men's Chronicle Cup competition, which features 30 qualifiers from each of the five local clubs – Brookdale, C&R, Oldham, Saddleworth and Werneth - will be played at Saddleworth on Saturday, June 2.