Sunday League plea to local footballers
Date published: 22 May 2018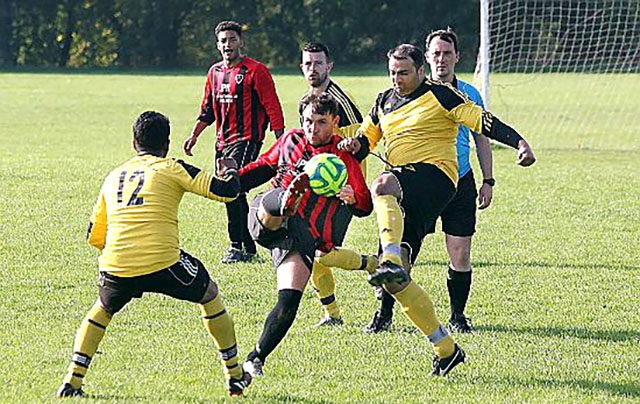 The Oldham Sunday League has been running for 51 years
Amateur football by Ryan Booth
Oldham's historic Sunday Football League has issued an urgent plea to local footballers in a bid to save the 51-year-old competition from extinction.
Formed in 1967 as the Woodhouses and District Football League, the Oldham Sunday League [OSL] has played an integral part in the development of the town's amateur and grassroots football scene.
Despite celebrating its 50th anniversary just last year, the committee has threatened that it may be forced to close following a significant reduction in participating clubs ahead of next season.
In 1997, the OSL boasted five divisions with an astounding 53 member clubs.
Fast forward 20 years, and a mere 16 teams competed across two divisions throughout the recent 2017/2018 season - a record low for the competition.
Vice-Chairman Steve Diggle told the Chronicle: "After celebrating our 50th birthday only last year, there is now a real threat that this will also be our last year.
"As the only Sunday afternoon league left with the Manchester Football Association, we are now down to our lowest number of teams ever and at present, we don't have enough teams to continue next season."
Grassroots football has suffered a notable decline in recent years.
For example, the neighbouring Tameside Football League averaged three divisions per age group as recently as 2014.
However, today the competition now runs just six junior divisions across all ages on Sunday afternoons.
While the future of the amateur game in general is unclear, Diggle has revealed the OSL continues to endure great success despite operating on a limited number of affiliated sides.
Diggle said: "The league has also had much success at both Inter-league and County Cup competitions such was the quality of players that the league has enjoyed over the years.
"Even now with only a small number of teams we still managed to get four of our teams to the latter stages of the County Cup and even into a final of the Manchester Sunday Shield, which unfortunately they [Middleton Colts] lost.
"We were the last league under Manchester FA that played afternoon football and as of next season, we will be moving to morning only football to fall in line with all the other leagues.
"The aim is to hopefully attract teams from the Oldham area who are currently playing in other leagues back into the Oldham district."
Alongside the league's prospective reshuffle to Sunday mornings, Diggle also revealed that the OSL can offer a financial incentive to try and lure potential teams into registering with the competition.
"At the moment our aim is to get more teams into the league, rather than making more money," added Diggle.
"We are in a unique position that we can give money back to clubs.
"To potential teams we can offer them financial help but also because we are a smaller league much more of a chance to reach cup finals - we run three cup competitions as well as league champions and runners up.
"We are offering teams a lot of support by waiving League fees, Cup fees and paying the affiliation fee to Manchester County which is a saving of over £200.
"We will also be making a contribution to each team's pitch fees but this would be dependent on the number of teams that join the league as to how much we could contribute.
"Most of the committee have run teams in the past and a couple still run teams so there is a lot of experience on the committee and we are very much willing to assist new or inexperienced teams."
With the potential to offer financial assistance and more of an accessible route to cup finals through its minimal participation levels, the Oldham Sunday League is reaching out to the town and borough of Oldham to try and preserve the region's fine local footballing history.
Anyone who wishes to register a new team ahead of the 2018/2019 season can contact Diggle by email at: shawathletic@sky.com or by phone on 07718 703733.
Alternatively, further details can be found on the Oldham Sunday League website: www.oldhamsundayleague.com.