Oldham trio gear up for British Championships
Date published: 25 May 2018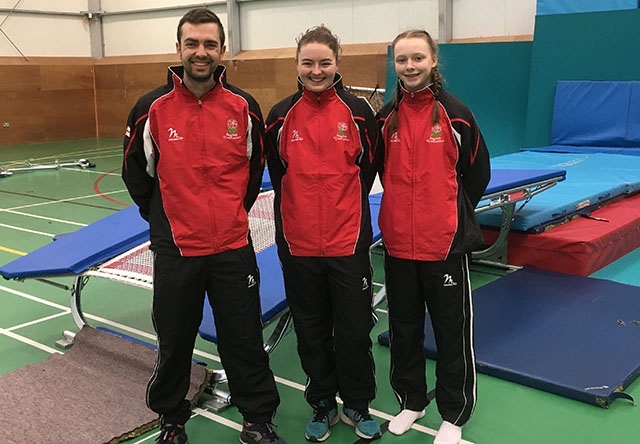 Oldham trampolining talents Ruth Shevelan, Chris Lunt and Chadderton's Hannah Bucys
Three local gymnasts, who train as part of the Dynamo Trampoline Academy in Oldham Community Leisure's (OCL) Oldham Sports Centre, have been selected to compete in the Trampoline and Tumbling British Championships.
The championships, which take place in Birmingham this September, are the latest in a string of competitive events where the trio have enjoyed success.
Last month, Ruth Shevelan (25) was selected for the Great Britain team and competed at the 26th European Championships in Baku, Azerbaijan.
In the team competition she and the Great Britain team took the silver medal, behind Russia.
In the individual competition she qualified for the final, where she finished eighth.
Two other Dynamo Trampoline Academy members, Chris Lunt (25) and Hannah Bucys (15) - currently members of the England squad - were both selected for their first international Double Mini Trampoline event – the Frivolten Cup.
The event, which took place in Sweden earlier this month, saw Hannah win the Junior Girls' competition.
In the Senior Mens', Chris finished in fourth place.
All three gymnasts have also qualified for the upcoming English Championships, taking place in October.
Dynamo Trampoline Academy began training at OCL's Oldham Sports Centre six years ago, in 2012, when it was known as Stockport Trampoline Club.
The height of the sports hall allows the use of a more powerful trampoline bed, meaning club members can train on equipment used in national level competitions.
OCL's Trampoline Co-ordinator Sarah Scott said: "The extra height we've gained by moving the Academy to Oldham Sports Centre gives our gymnasts extra flight time in the air.
"This allows them to learn and perfect more difficult skills, which they can then transfer to Double Mini Trampoline, a discipline of the trampoline sports family in which our club has had great success in in the past.
"I am delighted with Ruth, Chris and Hannah's results so far this season, representing your country is a huge achievement.
"All three gymnasts have worked so hard to get this far, and that hard work is now paying off."
Ruth and Chris both live in Stockport, while Hannah is from Chadderton and attends North Chadderton High School, where she is currently studying for her GCSEs.
Hannah began trampolining at Failsworth Sports Centre before joining Dynamo.
In 2017, she finished second in the 15-16 age group at the British Championships and also second at the English Championships, securing her a place on the England squad.
Even though Hannah is only 15, last year she was the youngest competitor in the 'Super League', in which she qualified for the National Final.
All three of these gymnasts are coached by OCL's Trampoline Co-ordinator Sarah and OCL Trampoline Coach Michelle Scott.
As well as training sessions at Oldham Sports Centre they train three times a week in Stockport, have 'off bed' conditioning training and travel to the National Sports Centre in Lilleshall once a month.
In addition to these gymnasts, Dynamo Trampoline Academy has eight competitors competing at National Trampoline League events this season.