Sinfield relishing England role
Reporter: Simon Smedley
Date published: 22 June 2018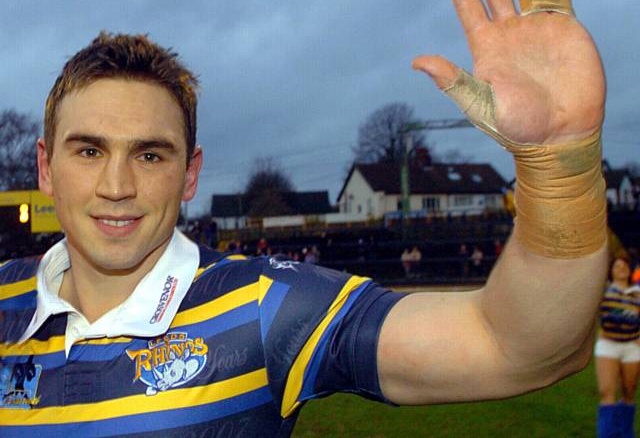 Oldham rugby league legend Kevin Sinfield
He's one of Oldham's most famous sporting sons, and thankfully for so many, rugby league hasn't left Kevin Sinfield behind following his retirement from playing.
Saddleworth lad Sinfield, now aged 37, was, and still is, the epitome of a true and loyal professional.
After playing for Waterhead as a lad, he signed for Leeds Rhinos in 1997 and never looked back.
A one-club man, Sinfield played for the Rhinos for 18 years, making 521 appearances.
A record Super League appearance holder and points scorer, Sinfield won the Super League seven times, the Challenge Cup twice, the World Club Challenge three times and the League Leader's Shield three times.
He also played for and skippered England and Great Britain before playing one season with the Yorkshire Carnegie Rugby Union club in 2016.
After hanging up his boots, Sinfield was appointed to the role of RFL Rugby Director in the summer of 2016, and that's a pivotal one, certainly given that the Rugby League World Cup will be held in England in 2021.
It's clearly a role he relishes, though.
Sinfield said: "After finishing playing, that transition, it's tough.
"I've never had another job, and though I've been fortunate enough to study along the way, you are starting again really.
"It's a nice posh title, but the job over the past few months has been really focused.
"I look after the England teams and it is really good.
"In effect, it's probably similar to a Sporting Director role in football.
"I'm overseeing retention and recruitment of staff, overseeing what the players get, but I'm not doing any coaching.
"I employ coaches and put all that side of things together, then there's the science and the analysis, research and stuff for the coaching programme.
"I have a bit more of a direct involvement with the men's team and the Knights, but with the other four I'm making sure all the programmes work like they should work.
"Everything is about developing players, and making sure they enjoy their experience with England and that they train and play in the right environment."
Sinfield holds responsibility for the continued progression and development of six England teams – the men, women, wheelchair, emerging team (the Knights), the under-18s and the under-16s.
It's a sizeable brief, but one he's definitely content with for now.
"It's a role that's suited to me, and I mean that in the nicest possible way," added Sinfield, who was appointed an MBE for services to rugby league in 2014.
"When you have played you are looking for something as close to the rugby, and this is perfect.
"I've watched and studied the game, and the aim was to go down this route, so to have this opportunity now is great.
"I'm only actually contracted until the end of the year, but the plan will hopefully be for me to stay on until the World Cup.
"If for any reason that doesn't happen, it'd at least be nice knowing that I'd have played a small part in setting the programmes up and making some changes.
"It's about leaving it in a better place than you found it I guess.
"Don't get me wrong, there are plenty of people out there who would have done just as good a job, but the playing experience has helped me, and the understanding of what players need.
"Hopefully I can just go on and do the role justice now.
"It's not like playing, but there's bits of it I really enjoy and I work with some wonderful people.
"Being in a team environment with those people is great, and you are close enough to rugby without having it rammed down your throat.
"It's nice to get some time with the family at the weekend, and it's nice not to be too bashed up at the weekend too!"
Despite being free of cuts and bruises on a Monday morning, Sinfield does miss getting out there on the field and mixing it with Super League's toughest.
That's understandable given the success he enjoyed.
"I do miss playing," added Sinfield.
"I was conscious of not staying on too long, and in many respects going too early as well.
"What comes with going too early would be still having an urge to play, but if you speak to most players who've retired they still fancy playing.
"I'm 37, though, and you can't play for ever.
"I was very fortunate to play in a great team and enjoy a decent career, and I look back on that career I do feel very lucky.
"I'm like anybody else, though, in that if you want to be success at anything, you've got to graft and you've got to have a great attitude.
"You have got to have luck along the way, and a lot of it is timing, while the memories and the friendships I've come away with are the things I hold dearest.
"As a group of lads you go through all different emotions together, and thankfully we won some trophies along the way.
"It was a special bond, knowing that we'd achieved things together."