What a celebration - Oldham honours its grass roots sporting elite
Date published: 21 September 2018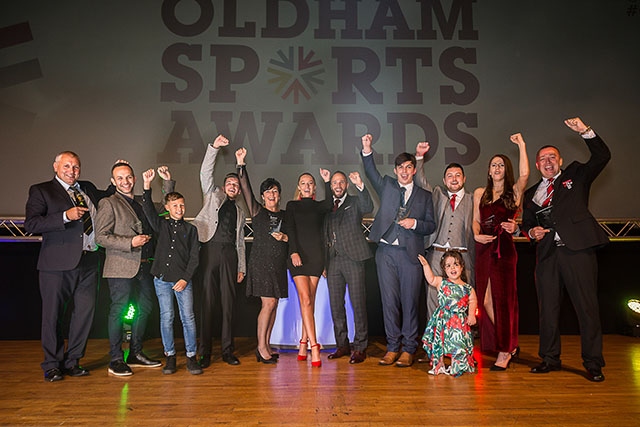 Well done to all the Oldham Sports Awards winners!
Hundreds of people gathered at Oldham's Queen Elizabeth Hall on Friday night (September 21) to pay tribute to the great and good of the town's sporting scene for the latest instalment of the Oldham Sports Awards.
Hosted by extreme adventurer and teacher at St Joseph's RC Primary School in Shaw, Steve Hill, a whole host of heroic amateur sports figures from across Oldham were honoured.
This year marked the 16th annual award ceremony.

The event allows people from different sporting backgrounds to unite as a community and appreciate each other's efforts in order to help improve the local area, while also congratulating and celebrating the accomplishments of the borough's biggest sporting heroes.

Winners from the Sport's Awards - there are eight categories - now go on to represent the borough at the Greater Manchester Sports Awards later in the year.
The award categories this year were Unsung Hero, Club of the Year, Coach of the Year, Volunteer of the Year, Disabled Sports Achiever of the Year, Contribution to School Sport Award, Sports Achiever of the Year and the Changing Lifestyle Award.
A list of the winners is below:
Unsung Hero
Dave Donlan (Springhead Football Club)
Current chairman Dave has been at Springhead Football Club for over 30 years, during which time he has also occupied the roles of player, coach, youth team manager and committee member.
The club's 23 youth teams and two open age teams take many hours of paperwork and days stood coaching in the cold and Dave is described as the person to call on no matter the time or the issue.
He takes on the role of ensuring the club is run correctly not just on match days, but also by co-ordinating fundraising, managing committee issues and meeting with players and parents.
To engage the community, Dave has developed a Saturday morning soccer school, organises the community bonfire and has recently begun a five-year development plan to continue the club's progress.
Club of the Year
Fierce Dance
Fierce Dance are the title holders of the Northwest, Nationwide, British and European Championships and recently returned back to the UK with the World Championship title 2018.
'Fierce Future' won the world's advanced category with many other Fierce dancers placing top five in many other categories.
They are dedicated to bringing the confidence-building effects of drama and dance to the community, setting up the Oldham Street Dance Championships and volunteering at a Changing Horizons event at the Queen Elizabeth Hall.
In terms of their wider impact, groups perform at charity events raising £2,500 for Dr Kershaw's Hospice.
Coach of the Year
Lee Hadfield (Chadderton Park Sports Club)
Lee has shown huge dedication to Chadderton Park Sports Club, coaching five teams including the under-12s, under-18s and under-6s.
He also coaches a team of players with cerebral palsy.
Lee takes the group to train at Manchester City every week and to the Manchester Ability League once a month, as well as to play other teams of players with cerebral palsy in Newtown, Stoke and Bolton.
His dedication has transformed the under-12s team into a force to be reckoned with, winning the majority of their games along with the under-18s who have won back-to-back league titles.
One of his players with cerebral palsy was recently selected to play for Manchester City in an international game.
Volunteer of the Year
Andy Steel (AFC Oldham)
Alongside his full-time job, Andy is Oldham AFC's second team manager, Academy coach, Executive Committee Member and Social Media Officers – roles which end up being almost full-time.
He combined his off-the-pitch work with Andy's man club – a support group that encourages young men to talk about mental health issues – with the football club when he suggested they wear AMC shirts in the absence of a sponsor.
Andy has not missed a training session or match day in the last year, making himself constantly available to the players and filling his spare time with planning training sessions and social media work.
Never held back by his cerebral palsy, Andy does everything with a smile and is always available to talk or listen to anyone at the club.
Disabled Sports Achiever of the Year
Mary Shaw
Last October Mary attended the Dwarf Boccia and Badminton Nationals in Birmingham and came home with three silver medals in both Boccia and Badminton.
In May this year she attended the 25th Dwarf National Games and moved up a category from doing cricket ball and frisbee to now doing shot put and discus and javelin.
Mary came home with three bronze medals, one for discus and one for javelin, even though she was the smallest and youngest within a group of 12 girls.
Her third medal that weekend was for New Age Curling.
Mary is now in training ready for her next Dwarf Boccia and Badminton Nationals this October and is committed to travelling to Liverpool most Fridays for throwing training.
She is also aiming to be representing Team GB at the next Dwarf World Games in 2021.
Contribution to School Sport Award
Broadfield Primary School does not leave sports on the pitch; KS1 phonics is taught outside using movement, Active Brain Breaks are taken during lessons, sporting heroes are researched in PSCHE and heightened pulse rates are seen as an opportunity to bring science into sport.
Their PE curriculum is designed to be both enjoyable and challenging, promoting confidence in physical activity in a safe environment.
Playtime and lunchtime are also opportunities to be active, with at least four different activities on offer every lunchtime.
These are skills that pupils can take into the huge range of competitive opportunities available for all ages.
They are also dedicated to inclusion; the school runs a STAR club for less active children and "This Girl Can" groups – girl-only zones aimed at girls who say they don't feel as comfortable playing sport in mixed groups.
Sports Achiever of the Year
Oscar Schofield
Northern biathlon champion (ranked sixth nationally), Oldham cross-county champion, and the only person to win the independent school biathlon by 70 points are all titles belonging to 10-year old Oscar.
Despite revision for an entrance exam and fighting flu throughout cross-country, Oscar has persevered in pursuit of his goals.
England pentathlon have recently approved the young athlete to learn fencing and laser shooting in recognition of his great potential.
Now, he has added these to his busy schedule and continues to balance a large volume of work on young shoulders.
The recent bullying Oscar has suffered because of his dedication to sport and goal of representing team GB has not deterred him and he will hopefully head to the world championships in Egypt this October.
Changing Lifestyle Award
Paul Jenkner
The most strenuous exercise Paul used to face was the walk from the workspace to the oven and back again in his role as a chef.
He decided to make a change and enrolled at the Man V Fat football programme supported by Oldham Athletic and Sport England.
Since then, Paul has become a man who visits the gym three times a week and is highly conscious of maintaining a healthy food intake.
The programme has given him a sense of self-belief and improved not only his physical but mental strength, making him far more outgoing and approachable.
As a chef, Paul has been able to illustrate his healthy recipes on social media and supports other players by providing healthy sacks.
His team describe him as a very good role model and Paul himself calls this change the best thing he has ever done.