Match Report: Oldham RUFC v Liverpool Collegiate
Reporter: Dave Roscoe
Date published: 21 September 2021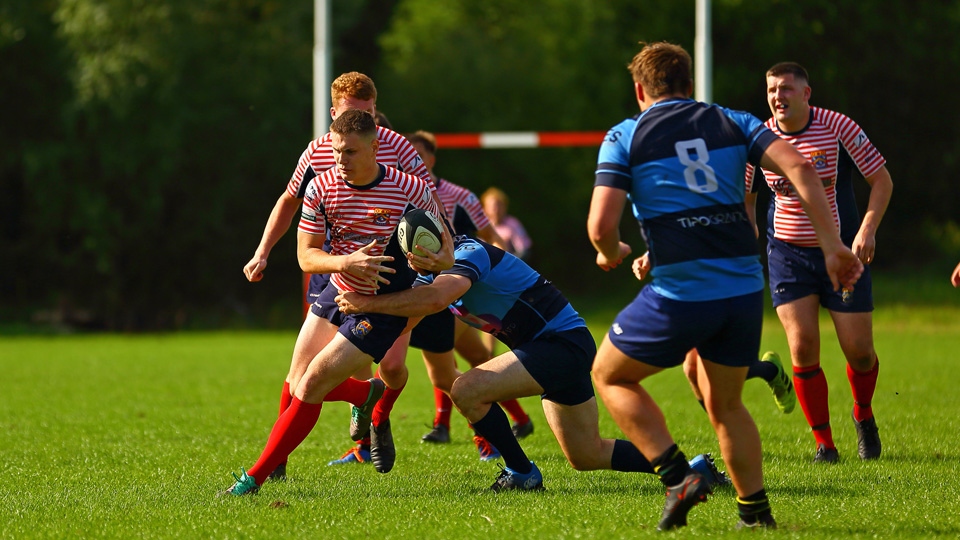 Jamie Dalloway [Pic: Tim Abrams]
Oldham 34 - 29 Liverpool Collegiate
It was the last Saturday of summer and what a beautiful late summer's day it was as Oldham welcomed Liverpool Collegiate to Manor Park. I suspect that Factor-30 was the order of the day but I think that strong lager could have been the beverage of choice. The visitors had an impressive win over Aldwinians last week so were clearly a side in some form. Oldham on the other hand had suffered a 15-5 defeat last time out.
Oldham received the kick off and their ability to retain the ball was good. However, they struggled to turn possession into any kind of territorial advantage and the game was largely played between the Oldham 22 and halfway. Eventually however, the aggressive carrying of Stuart Brenna, Rob Froggatt, Dean McEwan, John Souter and Tom Hannon, largely off Louis Fitton and Captain Jack Taylor, especially around the breakdown, began to take its toll on the hardworking collegiate defence and a few holes started to appear. Oldham secured a line out just outside the Collegiate 22 following a pin point boot to touch by Tom Davies. An impressive catch and drive saw Ryan Pickles touch down near the corner flag and Oldham deservedly led 5-0.
Oldham managed to secure the restart but a clearance kick was charged down into the in goal area and immediately the scores were tied at 5-5. Things then took a turn for the worst when Martin Meggison was sent to the bin for 10 minutes.
But these set backs were temporary and a galvanised Oldham were soon back on the offensive. A catch and drive from a line out developed into a series of pick and drives which resulted in Brennan being faced with a one on one 5 metres out and he was absolutely unstoppable and Oldham led 10-5.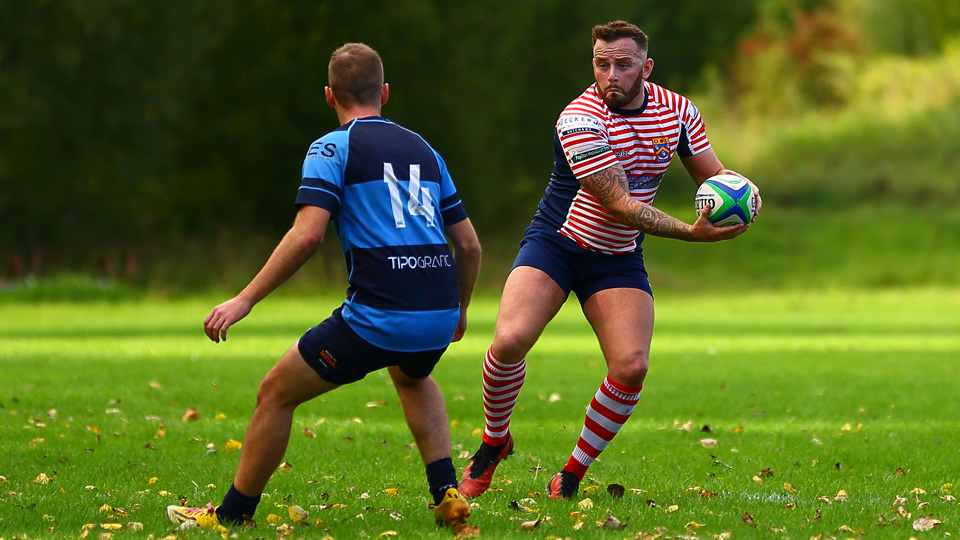 Whilst Oldham were undoubtedly dominating proceedings at this stage, the visitors always looked dangerous in possession, especially with some pace and aggression on the outside, and it took a remarkable last ditch tackle from Pickles - who must have covered 50 metres in pursuit of his prey to maintain Oldham's lead. Oldham took full advantage of this vital intervention and scored two further tries before half time from replacement Rhys Jones and Fitton. The latter was converted by full back - yes that's correct - full back, Jordan McEwan and Oldham led 22-5 at the break.
Things were going pretty well at this stage. The driving of the Oldham front five was complemented by the industry and scavenging of Ryan North and Pickles in the back row. Davies, Lewis Townsend and Josh Watson were rock solid in midfield and the back three of Meggison, Jamie Dalloway and Jordan McEwan dealt well with the first class Collegiate kicking game. Collegiate had lost two props to injuries that required a visit to the Oldham Royal hospital and so scrums became uncontested. We wish them a speedy recovery.
The complexion of the game changed in the second half as the uncontested scrums allowed Collegiate to field a more mobile pack whereas Oldham retained a traditional front five. Collegiate's more expansive game saw them reduce the deficit to 22-10 with a score in the right hand corner. However Oldham pinned the visitors in their 22 from the kick off and set up a powerful driving maul from a line out. Collegiate appeared to have brought the maul down but the referee ruled that it had collapsed and awarded a defensive scrum. An alert Brennan charged down the clearance kick and won the chase to the in goal area and touched down to make the score 27-10.
The lead increased further when Oldham scored the best try o the game. A clearance kick was fielded by Jordan McEwan on his own 10m line. He fed Dalloway who ran a perfect arc and showed an impressive turn of pace to carve the defence wide open. It looked as if he could have scored but he unselfishly put Fitton for an excellent score. Jordan McEwan's conversion made the score 34-10. Job done you would think. But this is Oldham.
Meggison was dismissed for a second yellow card and so Oldham faced the final 20 minutes with 14 men and a few tiring bodies. Simon Gardner made the briefest of cameo appearances which saw him lose a couple of teeth in his first contact. Chris Brown, Alex Kurkiewicz and Phil Whitham provided fresh legs but as Oldham lost discipline structure and organisation, Collegiate gained belief and confidence. They scored three tries and one conversion to make the score 34-29 with 4 minutes remaining and it seemed to all the world that they would snatch the most unlikely of victories.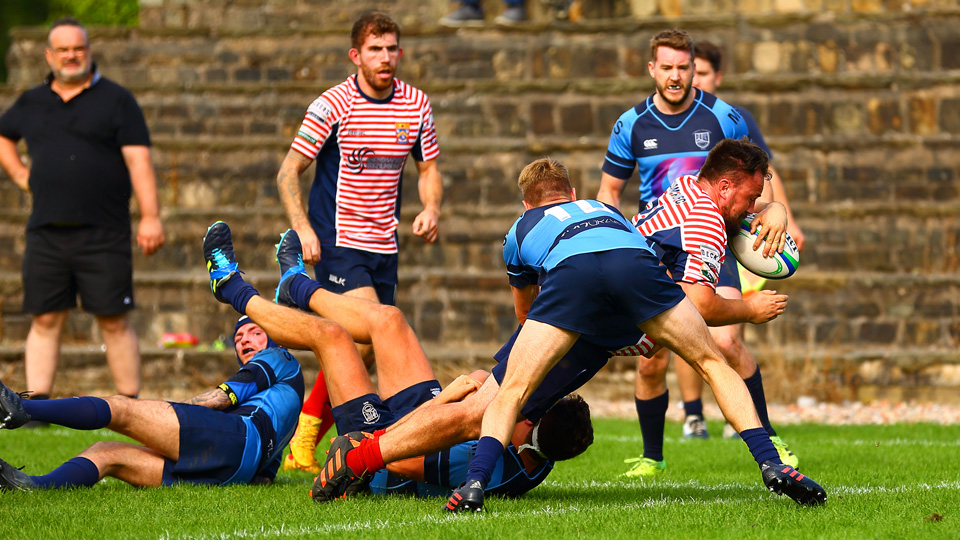 But somehow Oldham managed to recover the ball and were able to close the game out 34-29.
Collegiate will believe that they should have won this game and will be disappointed with the two points they received for scoring four tries and a losing bonus point. They play the game positively and expansively throughput and have a first class attitude. No back chat from them. They have plenty of gas outside and their number ten was the stand out player on the pitch controlling pace and tempo for long periods.
As for Oldham, the first 60 minutes were pretty impressive when we scored 6 tries. We looked well organised and disciplined with a clear game plan. We might have scored more tries if we had exhibited a bit more control and composure at key moments. However for some unfathomable reason we lost the plot completely for the last 20 minutes and hearts were in mouths for the last few minutes.
[Pics: Tim Abram]
---
Do you have a story for us? Want to tell us about something going on in and around Oldham? Let us know by emailing news@oldham-chronicle.co.uk , calling our Oldham-based newsroom on 0161 633 2121 , tweeting us @oldhamchronicle or messaging us through our Facebook page. All contact will be treated in confidence.