Colonel Phil Harrison visits Royton and Crompton School
Date published: 12 October 2017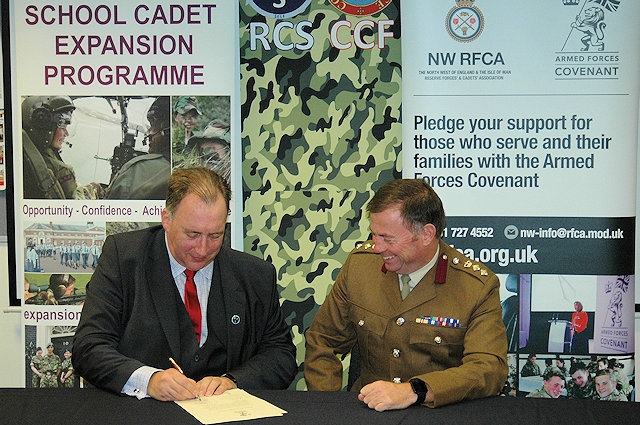 Headteacher Neil Hutchinson with Colonel Phil Harrison as they sign the Armed Forces Covenant for Royton and Crompton School
Royton and Crompton School welcomed Colonel Phil Harrison, Army Regional Commander (NW) on Wednesday 4 October as the school signed the Armed Forces Covenant and plans to set up a Combined Cadet Force.
Headteacher Neil Hutchinson said: "We have a long tradition in Oldham of supporting the Armed Services. We as a school community wanted to make this more formal, with a public undertaking to be there for them.
"As we are setting up a Combined Cadet Force at Royton and Crompton School, it was great to see Colonel Harrison, supporting us by visiting the school to meet some of the cadets and also the staff who have committed to leading this new unit."
Schools and the armed forces community are encouraged to work together to establish a covenant in their area in order to:
Encourage schools to support the armed forces community in their areas and to nurture public understanding and awareness among the public of issues affecting the armed forces community.
Recognise and remember the sacrifices faced by the armed forces community.
Encourage activities which help to integrate the armed forces community into local life.
Encourage the armed forces community to help and support the wider community, whether through participation in events and joint projects, or other forms of engagement.
This is a forerunner to the school establishing a Combined Cadet Force in December 2017 as part of the Governments Cadet Expansion Programme, which is funded by the LIBOR fines gathered from banks.
The Cadet Expansion Programme (CEP) was launched in June 2012 by the Prime Minister and Deputy Prime Minister with the aim to deliver 100 new cadet units in English state-funded schools by September 2015. The Government has now committed to grow the total number of cadet units in schools across the UK to 500 by 2020, which will be supported in part by £50m of Libor funding.
The CEP is part of the Government's aim of promoting military ethos in schools; to instil values in young people that will help them get the most out of their lives, and to contribute to their communities and country.
This means pupils developing qualities such as self-discipline, loyalty and respect, strong leadership, teamwork and resilience which will help them achieve excellence and shape their own future.
The programme focuses on Combined Cadet Force units ensuring that as many pupils from a state school have the chance to experience the life-enriching activities of military cadets as part of school life - this mirrors the military activity offered in many of the best independent schools in the country.