New bereavement centre opens at Royal Oldham
Date published: 14 February 2018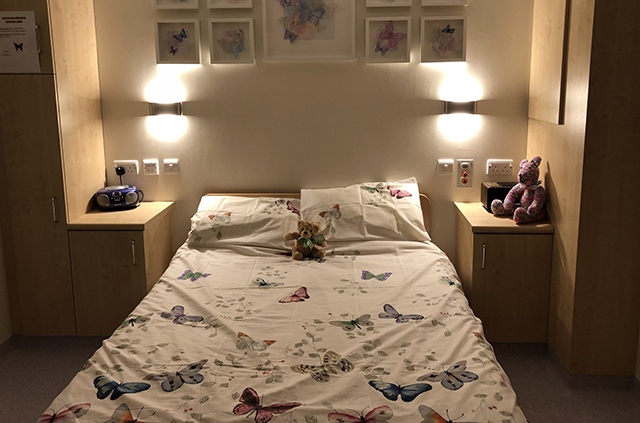 A new Bereavement Centre for the labour ward at The Royal Oldham Hospital has opened
A new bereavement centre for the labour ward at the Royal Oldham Hospital has had its official opening.
Staff from maternity services and families who have sadly lost babies at the hospital attended the opening.
Located in a room adjacent to the labour ward, the suite offers a place where parents can be alone with their child for reflection, with the aim to provide a safe haven for bereaved families away from the clinical area, in a comfortable, homely setting.
Prior to the new centre opening, bereaved families were cared for in a fairly normal clinical delivery room, with no proper facilities for partners to stay.
This accommodation means partners can stay, come in and go out of the room without having to go into the main labour ward area, offering them privacy away from other families. It is staffed by a bereavement specialist nurse who offers support within maternity and is also assisted by ward staff.
The suite comprises a double bed, bedroom furniture and ensuite facilities, and is decorated with pictures of butterflies.
Stunning artwork created by pupils from North Chadderton school and the renowned artist Lily Greenwood adorn the walls of the suite and reflect the butterfly theme with a three dimensional piece of work with lights to symbolise the beautiful babies flying off into the air as butterflies would.
There is also a tree of life art work which contains hooks and tiny pictures of butterflies. The idea is for parents to hang a tag on the tree in memory of their baby if they wish.
Penny Martin, divisional managing director for women's and children's services at The Royal Oldham Hospital, said: "We wanted to create a peaceful place for parents and babies to spend precious time together as they say goodbye to their beloved babies.
"Through the help of staff and the local community we feel that we have done this.
"There are so many people to thank in helping to bring this suite together.
"They include the families who have lost their babies and who have donated money or equipment to the bereavement service; staff and pupils at North Chadderton school who funded, designed and produced the artwork for us; St Joseph's School and The Royal Oldham Hospital League of Friends who bought the Lily Greenwood artwork; the army of people who knit blankets and tiny clothes for our babies; 4Louis charity who donate memory boxes and baskets; Aching Arms who donate teddies and Bounty who are donating a camera and printer so that we can create lasting memories for parents."
The centre will initially handle bereavements for the Oldham labour ward.
However, the service could be shared with the Neonatal Intensive Care Unit at the hospital in the future.