Brass Monkeys seek new band members
Date published: 28 February 2018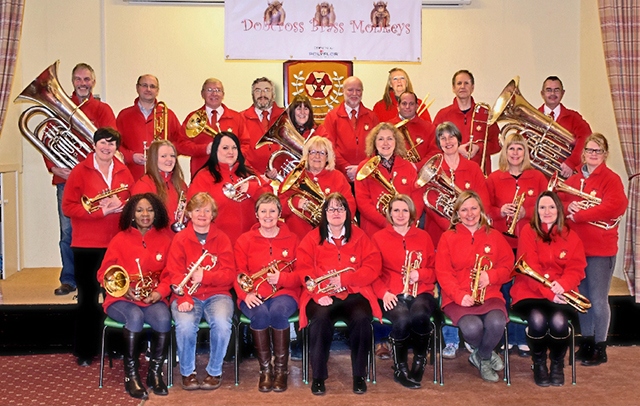 The Dobcross Brass Monkeys brass band are seeking new recruits
The Dobcross Brass Monkeys brass band are short of players and are currently on the look-out for some new faces.
The Brass Monkeys enjoyed a great 2017 as played some cracking concerts.
The highlight of the year was performing a sell-out concert in Delph's Millgate Theatre.
Although the weather tormented the band all year, they still managed to perform outside concerts at Shaw and Uppermill, and also entered eight Whit Friday village contests before finally being beaten by snow when due to play at the Shaw Masonic carol service.
It was also good to see that some of the band's efforts had paid off in that a number of players were promoted into the Dobcross Silver Band.
Unfortunately this has left the Brass Monkeys band with a few holes that need to be filled quickly in order to keep the momentum going.
The players sought will have played before and maybe have thought of having another dabble.
The Monkeys are a very social band and enjoy each other's company, so much so that they are hoping to arrange a weekend away this year, somewhere in the UK.
The band accepts new and existing players on any instruments, but in particular they would like to hear from any cornet players, horn players, and EEb Bass.
Practice nights are Monday and Thursday and are held in the Dobcross Band Club.
For further details, call Phil Cumberworth on 07841 326505.