Paying tribute to the women of Palestine
Date published: 07 March 2018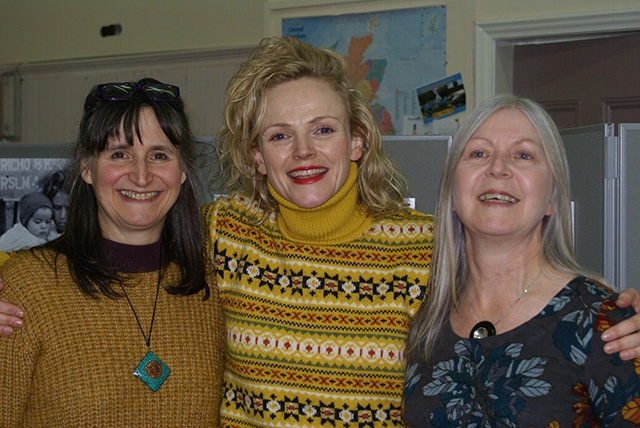 Maxine Peake (centre) supported the Saddleworth Palestine Women's Scholarship Fund event
More than 75 people gathered at Uppermill Methodist Church Hall on Sunday for an International Women's Day event paying tribute to women in Palestine and raising funds for access to higher education.
The event, 'Women of Palestine – the ongoing Nakba', was organised by Saddleworth Palestine Women's Scholarship Fund and marked the 70th anniversary of the expulsion of Palestinians from their ancestral homes (known as the Nakba) with a series of films, presentations, exhibitions and poetry.
The group were delighted to welcome actor Maxine Peake, who read two poems written by Palestinian poet, Fadwa Tugan.
At the heart of the event was a film, directed by Kholoud al Ajarma, from Aida refugee camp in Palestine's occupied territories.
Kholoud's film, 'On the Way Home', was specially commissioned for International Women's Day 2018.
It highlights the story of her mother, sisters and her grandmother who was in her twenties when she was forced to flee her village and become a refugee, unable to return to her homeland.
Kholoud drew on memories of tear gas and shootings but says that she has been empowered by strong women who never gave up and women who today, despite living in refugee camps, continue to 'study and dream'.
Speaking about her film, she said: "I felt it was my duty to keep this story alive. My grandmother is now in her nineties and I wanted make sure that her dream of a 'right of return' will not be forgotten."
Present at the event was Shadow Secretary of State for Work and Pensions and MP for Oldham East and Saddleworth constituency, Debbie Abrahams, who spoke to guests on the day.
She said: "Ahead of International Women's day, it's a fitting time to acknowledge the inspirational role women play in the ongoing situation in Palestine.
"The wonderful, warm welcome I received reflects the true spirit of this event and its very worthy aims of raising awareness and helping women gain entry to higher education."
The event also showcased a photographic exhibition and an interactive art installation created by artist, Hilly Fletcher, a campaigner for peace and justice in Palestine and member of the Northern Women for Palestine who supported the event alongside a series of other similar events across the North of England.
Hilly's work - 'Belonging' - was presented in the form of a tent symbolising shelter and a safe place, recognising those who have been displaced by war.
Donations, the sale of cakes and Palestinian goods went towards raising £670.26 on the day, with proceeds going to SPWSF.
At the close of the event, the SPWSF group invited people to become more active in their support and to raise awareness of the situation in Palestine.
The Saddleworth Palestine Women's Scholarship Fund group meets regularly and welcomes new members.
If you are interested in joining the group, or supporting events, please email: saddleworth.pwsf@gmail. com.
It is a women-only organising committee but welcome support from all.