Women urged to consider a career in construction
Date published: 07 March 2018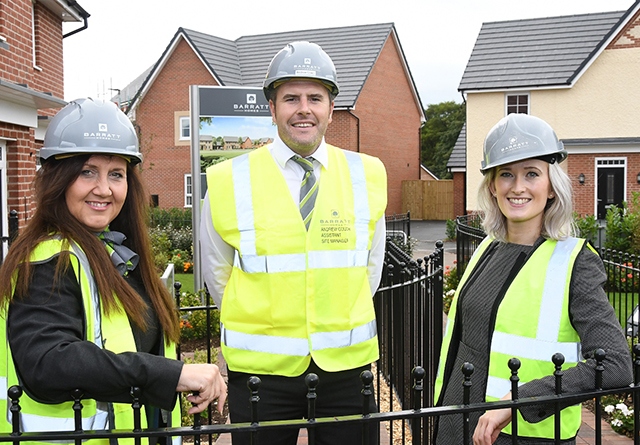 Women can build a successful career in construction. Pictured (left to right) are Dianne Mappin (Barratt sales adviser), Andrew Couch (assistant site manager) and Elaine Caulfield (sales manager)
Ahead of International Women's Day tomorrow (Thursday), leading developer Barratt Homes Manchester is encouraging more women to consider careers in the construction industry, with a variety of roles available across the region.
With a number of female employees already in a range of roles across the company, the housebuilder is reminding women from all skill sets of the different roles available and is encouraging them to put their experience to the industry.
Neil Goodwin, Managing Director at Barratt Homes - which is currently building at the Hillside Central in Tameside - said: "We want to quash the age old stereotype that the construction industry is a male dominated field as we have many women who work out on site as well as in office-based roles.
"With a range of departments within the company, we want to remind women that there are a variety of different roles that can be offered within the business that have great benefits and excellent opportunities for career progression.
"The construction industry is continuing to grow and this is an exciting time for people with an interest in housebuilding to join a market leading company.
"As one of the country's top developers we are absolutely committed to developing raw talent and support our staff with training."
Some roles within the industry include:
Based out on site – Electricians, Plasterers, Engineers, Fork-lift Driver, Scaffolders, Bricklayers, Site Manager, Contracts Manager.
Based at Head Office – Architectural Technician, Surveyors, Land and Planning Managers, Estimator, Buyer, Finance Administrator.
Michaela Lancaster, who works for the division as a Sales Director, said: "I have worked in the construction industry for 31 years and throughout this time I have seen an increasing number of women making successful careers in the industry, which is great to see.
"I would encourage women not to be put off by what is perceived to be a male dominated sector and recommend they find out more about what opportunities are available at Barratt Homes."
For more information, call the Barratt Homes Manchester sales team on 0844 811 7799 or visit www.barrattfuturetalent.co.uk