Beekeeping trio are buzzing!
Date published: 04 April 2018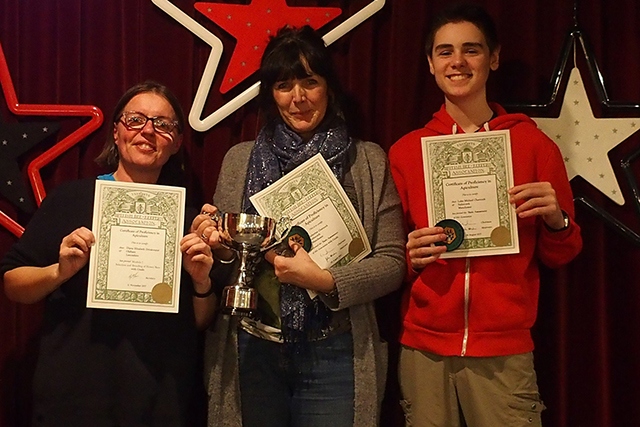 Catherine Charnock, her son Luke, and Diane Drinkwater show off their beekeeping awards
Three beekeepers from Medlock Bees have received certificates at the latest club meeting.

Catherine Charnock and her son Luke, aged 15, both received certificates for their BBKA basic assessments carried out last summer.
Catherine also received the Leonard Ross trophy for the highest basic assessment mark in Lancashire and North West BKA.
Diane Drinkwater received her Module 7 certificate with a credit. Module 7 covers the selection and breeding of Honey Bees.

Catherine said: "I was completely bowled over to discover I had been awarded this prize for the best Basic Assessment in Lancashire. I have to thank Diane for introducing us to beekeeping and all her hard work mentoring both of us."

Catherine is treasurer and Diane is secretary at the Medlock Bees club.
Medlock Bees is a relatively new club, with members based in Oldham, Tameside and Manchester.
Diane is also Apiary Manager at Cartmel Crescent Allotments and trustee for the BBKA - The British Beekeepers Association.
Catherine is senior beekeeper at Stott Lane Allotment. while both Catherine and Diane are involved in the organisation for the Oldham Growing Conference and are both keen allotmenters.

The Medlock Bees website is http://www.medlockbees.co.uk/ where you can find details of monthly meetings as well as how to join the association.