Vintage Cupcake Kitchen nominated for prestigious High Street Hero award
Date published: 13 April 2018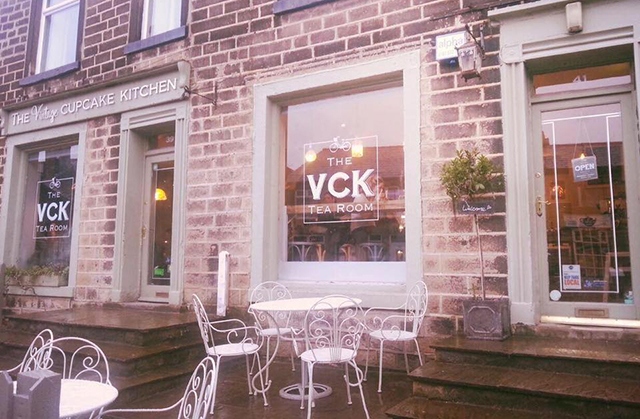 Uppermill's popular Vintage Cupcake Kitchen
The Small Awards has announced its shortlist for its High Street Hero award - sponsored by TSB - and on it is Uppermill's Vintage Cupcake Kitchen.
The High Street Hero award honours businesses with their heart in the high street, who are active members of the community and have a proven track record of contributing towards the success of their street.
The other successful finalists this year are Afflecks, Manchester, Mooch Gifts and Home, Bewdley, Foundations, Nantwich and Wags and Whiskers Pet Boutique, Stockton-on-Tees.
Now in its second year, the awards received a record-breaking number of entries from businesses far and wide and has selected a shortlist of five for each category.
The winners will be announced on May 17 at an exclusive black-tie event at St Mary's Church, Marylebone in London, attended by all finalists, judges and small business ambassadors.
"There are 5.7 million hard working small businesses in the UK," said TSB's Commercial Banking Director, Richard Davies.
"They sit right at the heart of their local communities – helping to fuel both their local economies and the UK economy overall.
"I've always been inspired by the capacity of small businesses to ride the economic waves, create jobs and serve local communities.
"They are Britain's unsung heroes – so I'm delighted to be joining forces with the Small Awards to celebrate this year's High Street Hero."
The aim of the Small Awards is to give a platform for small businesses and celebrate achievements and accomplishments within this arena that, for many, is the backbone of the economy and high streets all around the country.
The Awards mission is: "For the Smallest and the Greatest."
The Small Awards were founded by Michelle Ovens MBE of peak b Ltd, who is behind a number of national small business campaigns including Small Business Saturday, Do It Digital and F:Entrepreneur.
The Small Awards have been created as a direct response to the growing number of SMEs year-on-year in the UK and a desire to celebrate and reward them.
"Small businesses are the heart and soul of our communities," says Ovens.
"Giving small businesses a platform to showcase their product or service as well as connect with fellow business owners is imperative to helping secure the future success of our local economies and create and maintain a healthy business landscape."
The Small Awards boast 12 categories including: Digital Star (sponsored by Indeed) celebrating an online-only business; New Kid On The Block showcasing a start-up in the past 18 months and High Street Hero (sponsored by TSB) awarding the business that has gone above and beyond in supporting their high street.
Alongside these, there are awards for the best social enterprise, supply chain management, sole trader and multi-channel expertise as well as the big one, the Small Business of the Year award.
The awards have been judged by a number of high-profile names led by Paul Uppal, the UK's first Small Business Commissioner and include: Michael Hayman MBE, Founder of Seven Hills, Caroline Plumb OBE, founder and CEO of Fluidity, Dom Hallis, executive director of Coadec and Emma Jones MBE, founder of Enterprise Nation.