Oldham Town Hall shortlisted for BBC's building of the decade vote
Date published: 16 April 2018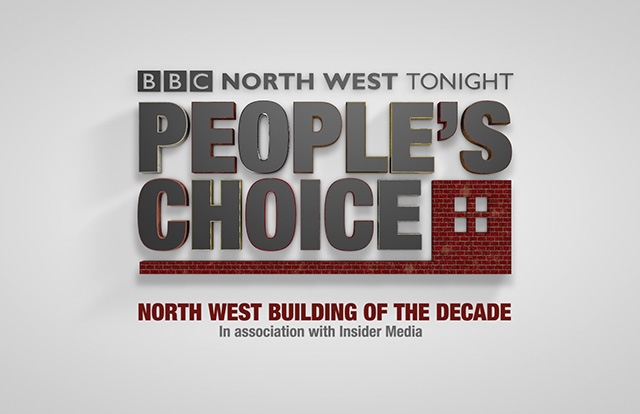 Oldham Town Hall is up for the 'People's Choice - North West Building of the Decade' award
BBC North West Tonight is asking its viewers to vote for their favourite modern building constructed in the last 10 years.
NWT, in partnership with the business magazine 'Insider Media', is launching an online vote for 'People's Choice - North West Building of the Decade'.
The Grandstand at Aintree Racecourse won the coveted title back in 2008, when the competition was first held.
Twenty-five unique and eye-catching buildings have been shortlisted for the prize this year, including Oldham's newly-refurbished Town Hall, a hospice café in Preston, a bus station in Rochdale and a car park in Warrington.
There are five nominations from each of our five regions.
The first region to showcase its entries on the 18:30 news programme tonight (Monday) is Greater Manchester, followed on consecutive nights by Merseyside, Lancashire, Cheshire and North Derbyshire, with the week culminating in Cumbria and the Isle of Man on Friday, April 21.
Each night viewers can pick their favourite building from the five nominations in that region in an online vote on the BBC North West Tonight website.
The vote will close at noon on the following day.
To vote, please visit: http://www.bbc.co.uk/programmes/b006pfjx.
By the end of the week (Saturday), viewers will have voted for five regional winners to go to compete in the grand final.
NWT reporter Stuart Flinders will then present a bespoke report on each of the five regional finalists to tell the story behind the buildings and what they mean for those who use them.
These reports will be shown on consecutive nights on North West Tonight from Monday, April 23.
At the end of the week, at 18:30 on Friday, April 27, the final online vote will open to allow viewers to choose the building they think deserves to be crowned 'People's Choice- North West Building of the Decade'.
This vote will close at 18:30 on Thursday, May 3.
The winner will be announced at the North West Property Awards, organised by Insider Media, on Thursday, May 17.
The following evening, Stuart Flinders will report live from the winning building on North West Tonight's 18:30 bulletin.
Flinders said: "Some of the shortlisted buildings have fascinating backstories and are really important to the communities in which they're located, so it's not just about aesthetics and architecture.
"Throughout the competition, viewers will get the opportunity to review the reports on each building on the North West Tonight website, News Online and Facebook before voting."
Greater Manchester nominees:
Maggie's at The Christie
NOMA Co-op HQ
Oldham Town Hall
Rochdale Interchange TFGM
Whitworth Gallery Extension