Rose Mill development is 'the best in town'
Date published: 20 April 2018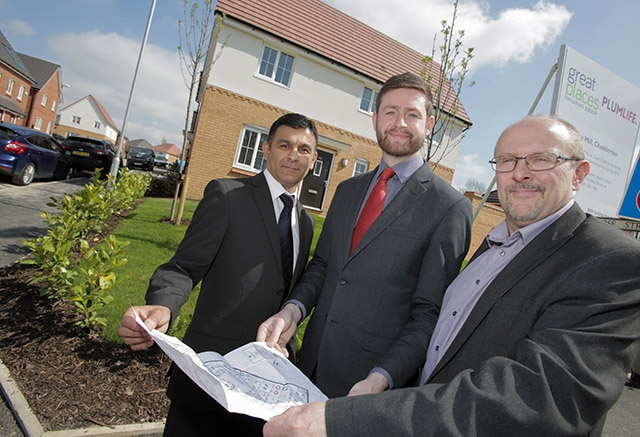 MP Jim McMahon with Pete Bojar, Executive Director for Growth and Assets for Manchester-based Great Places, and Neighbourhood Manager Masood Chaudry, at the new Rose Mill housing development
A new £4.3million housing development in Chadderton has been described as the 'best in the town' by local MP Jim McMahon.
The Great Places Housing Group scheme, called Rose Mill, is in Rose Street and is a mix of 42 two and three bedroom family homes, 28 of which are Affordable Rent, with 14 available for shared ownership.
The development will be completed by the end of June, with many of the homes already occupied, and others reserved ready for families to move in.
Today (Friday), Oldham West and Royton MP Mr McMahon met with Pete Bojar and Masood Chaudry from Great Places, for a tour of the brand new estate.
After the walk-round, Mr McMahon gave his seal of approval to the much-needed development.
He said: "There is a huge demand for attractive, decent, secure homes for mixed communities.
"Having a scheme like this for shared ownership, Affordable Rent and for letting people get their first step on the ladder is the best way forward.
"This is one the best sites in Oldham. It really enhances the local community and the homes are really bright and attractive."
Mr Bojar, Executive Director for Growth and Assets for Manchester-based Great Places, said: "This is a first class development, providing much needed affordable housing in the Oldham area.
"Great Places is committed to creating great homes that create great communities and we are really pleased that this Rose Mill scheme will do just that."
Neighbourhood Manager Masood Chaudry added: "I live just round the corner from here and it is a fantastic development that is great for the local area."
The housing scheme is a split development with housing developer Countryside delivering the 42 homes for Great Places and a further 82 units for Sigma Capital Group.