Dobcross Youth Band are looking smart
Date published: 08 May 2018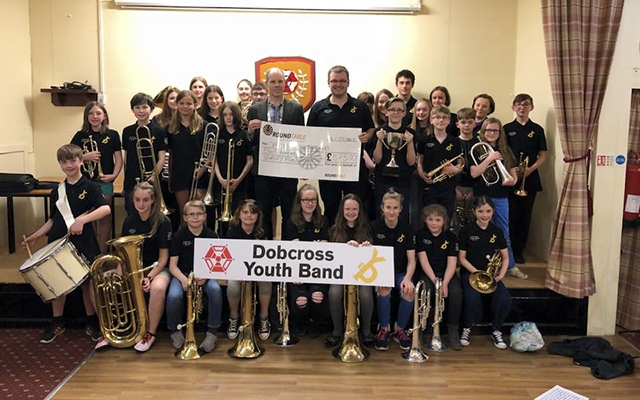 The Dobcross Youth Band look and sound great
Young musicians are looking good as well as sounding great, thanks to a generous donation from Saddleworth Round Table.
Members of the group donated £875 to Dobcross Youth Band, which has in turn paid for a smart new set of polo shirts for the youngsters to wear at fundraisers and other events.
Chairman Richard Foster made the presentation at a rehearsal at Dobcross Band Club as the players celebrated their recent first place in the youth section of the Holme Valley Brass Band Contest.
The Youth Band will still wear their traditional scarlet jackets for concerts and parades, but the polo shirts will be a comfortable alternative for less formal events.
Chairman Sue Crook said: "We are so grateful to Saddleworth Round Table for their wonderful support.
"The players are thrilled with the new shirts which will give us a more coordinated look at events where band jackets are too formal.
"It's great to see community organisations working together like this."
The Youth Band, which celebrates its 30th anniversary in 2018, has beginners and intermediate sections as well as the youth band, and new players aged between seven-18 are always welcome.
Anyone interested should email the band at: dobcrossyouthband@gmail.com