The ultimate challenge for First Choice team!
Date published: 11 May 2018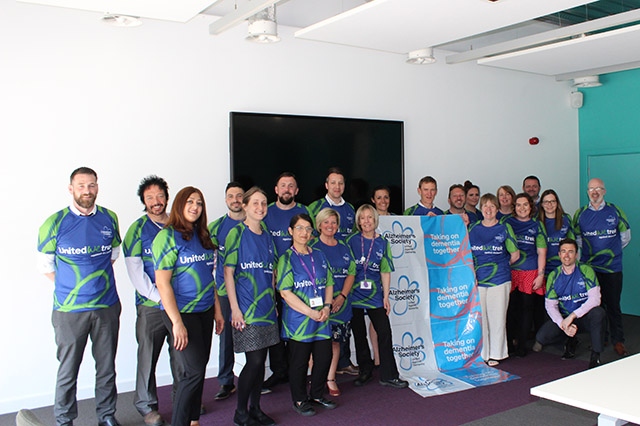 A huge team of colleagues from First Choice Homes have signed up to do the Yorkshire Three Peaks challenge
Thirty-three colleagues from First Choice Homes have signed up to do the Yorkshire Three Peaks challenge in order to raise money for their charity of the year, the Alzheimer's Society.
The 24.5 mile trek will take the group of colleagues across Yorkshire to complete the trek in 12 hours or less on May 12.
Phil Jones organised the challenge.
He said: "The team were eager to do something for Alzheimer's Society before our year supporting them ended so we thought what better way than to do the Yorkshire Three Peaks challenge.
"All colleagues involved have been training together and individually to prepare.
"We have really spread the word about the fundraising, and we are pushing hard to achieve our target.
"We are really pleased that we're able to support and raise money for such a great charity as we know it helps so many people."
First Choice Homes has been supporting Alzheimer's Society - which is a part of the wider Alzheimer Society - for the past year; with fundraising events including bake sales, raffles, dress down days and very popular 'Mocktail Mondays'.
The Alzheimer's Society conduct research, provide local services and campaign for better rights and equalities for people affected by dementia.
Part of this work is their Dementia Friends scheme, a voluntary initiative designed to change perceptions of dementia and educate people on the symptoms of the disease.
Alzheimer's Society Community Fundraiser in Greater Manchester, Stephanie Larkin welcomed First Choice Homes Oldham's event.
She said: "It's wonderful that employees at First Choice Homes Oldham have decided to take on the peaks to support Alzheimer's Society.
"It's a huge team effort with a high target and lots of hours of training involved! Dementia devastates lives, but dementia won't win thanks to them.
"Until the day we find a cure we will be here for anyone affected by dementia, where they are, whatever they're going through.
"We need more people like First Choice Homes Oldham to join us now and unite against dementia."
The group are hoping to reach their fundraising target of £5000 for the charity.
They have set up a Just Giving page for donations and for more information on the challenge: https://www.justgiving.com/fundraising/firstchoicehomesoldahm