Oldham nurses backing Insulin Safety Week
Date published: 16 May 2018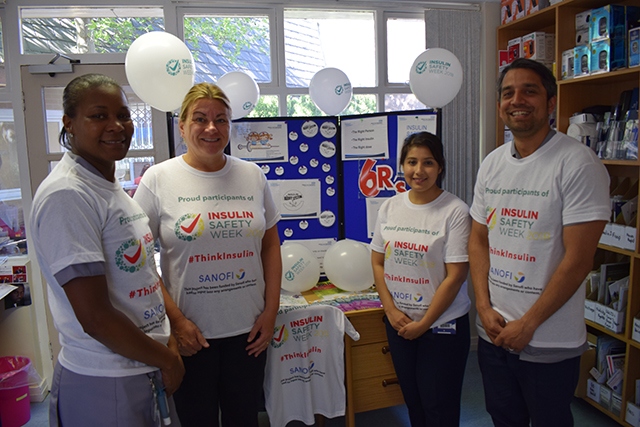 The first-ever national Insulin Safety Week builds on successful local campaigns across the country. Pictured are (left to right): Diabetes Specialist Nurses at the Royal Oldham Hospital, Judy Muir, Linda Adams, Ascia Bibi and Dev Sisodia
Nurses from the Diabetes Team at The Royal Oldham Hospital will be visiting wards this week to encourage staff and patients to #thinkinsulin this Insulin Safety Week (May 14-20).
The first-ever national Insulin Safety Week builds on successful local campaigns across the country and the aim behind the campaign will be to raise awareness about the importance of insulin being correctly administered at mealtimes, to help avoid medication errors occurring during a patient's stay.
Insulin errors are the third most common cause of serious harm or death in hospitals.
One in six people in hospital have diabetes and a third of inpatients with diabetes have a medication error during their stay.
That's why the Diabetes Team are keen to raise awareness amongst patients and nursing staff about the importance of patients having insulin administered at the correct time, to help avoid medication errors during their stay.
Diabetes Specialist Nurses Ascia Bibi, Linda Adams, Judy Muir and Dev Sisodia from the Diabetes Team will be visiting wards at breakfast and lunchtimes to promote the use of a new 'Insulin Buddy System'.
The Insulin Buddy System is already being used in some ward areas and is proving to be successful in ensuring that patients receive their insulin on time.
There is a very short timeframe of 20 minutes for patients to receive their insulin at mealtimes for the insulin to be effective and avoid variability in their blood glucose levels.
Linda Adams, Lead Nurse Diabetes, said: "Our Diabetes Specialist Nurses (DSNs) will be visiting three ward areas at the Royal Oldham during this week.
"At handover, they will buddy up with a qualified nurse to identify those patients requiring insulin therapy.
"They will assist in checking and administering the insulin to patients at mealtimes to ensure they receive insulin at the right time.
"These 'buddy's' will be responsible for prompting each other to ensure that patients are given insulin at the right time at all mealtimes.
"It can get really busy on wards and the buddy system is a simple, yet effective process for ensuring the safety and care of our patients when in hospital."
For more information on Insulin Safety Week, visit the campaign website at: www.insulinsafetyweek.com.
Alternatively, please contact the Diabetes Team for more information on the Insulin Buddy System on: 0161 627 8268.