Champion effort from Beth and the children
Date published: 22 May 2018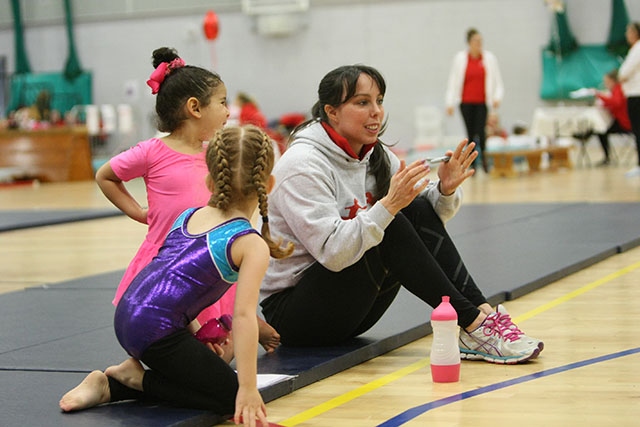 Beth Tweddle pictured at the Total Gymnastics Championships in Oldham
World champion and Olympic medallist Beth Tweddle MBE hosted an event to inspire and support young gymnasts in Oldham.
Keen youngsters across the area attended the gymnastics championships hosted by Tweddle and her company Total Gymnastics Academies at Oldham Leisure Centre.
Competitors demonstrated their talent and competed in a fun event which celebrated the children's hard work.
Tweddle was there on the day to meet the gymnasts and to offer advice and encouragement.
The championships were a huge success and saw over 300 children from across Greater Manchester take part and 600 spectators there on the day.
Tweddle's company, Total Gymnastics Academies – which is in partnership and registered with British Gymnastics – delivers industry leading gymnastic classes to over 3,500 children a week in local schools and leisure centres across the UK.
Tweddle set up Total Gymnastics Academies in 2010, combining her expertise and enthusiasm for the sport into an outstanding programme, which is dedicated to teaching children the best techniques from first-class, quality coaches.
She is passionate about getting children involved with gymnastics and to experience the many benefits the sport has to offer, including improving health, wellbeing and overall confidence.
Beth said about attending the championships: "I absolutely loved being involved and seeing all the talented children who are a part of the Total Gymnastics family.
"It's such a great way to celebrate the hard work the children and coaches put in over the terms.
"The aim of the championships is to spur children on in their gymnastics development and to make sure they have fun, which we definitely achieved.
"There's always a great energy at these events and this one was no different - I can't wait for the next one."