Cancer roadshow heading to town
Date published: 22 May 2018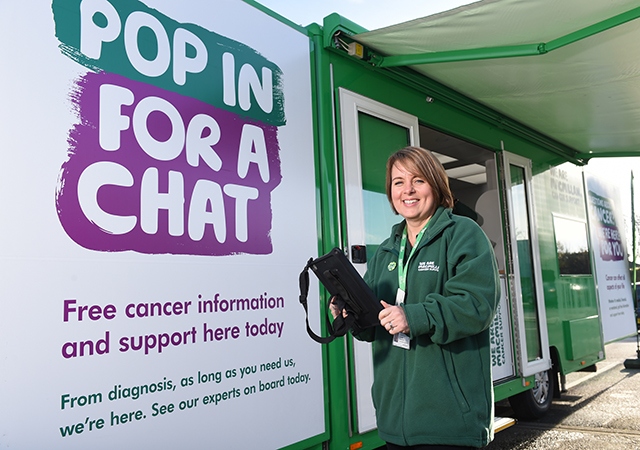 Jo Trask, from the mobile Macmillan Cancer Support information team
Free cancer information and support is coming to the Royal Oldham Hospital next Thursday (May 31, 9am to 4pm).
Macmillan Cancer Support's Mobile Information and Support Service will be visiting the area, with cancer information specialists on hand to answer any questions.
The team encourages anyone with worries relating to cancer to stop by.

Now that summer is almost here, the team will also be providing specialist information about sun safety and skin cancer (please note, the team will be unable to perform skin checks).
There are two main types of skin cancer: non melanoma and melanoma.
Around 136,000 cases of non melanoma skin cancer are diagnosed in the UK each year which makes it the most common type of cancer by far.
It is unlikely to spread, very treatable and the earlier it is diagnosed the easier it is to treat.
Melanoma is the fifth most common cancer in the UK.
Around 15,400 people are diagnosed with melanoma in the UK each year.
It is more common in people with fairer or freckly skin.
Around 27% of new cases occur in people aged 75 and over. Unlike other cancer types, malignant melanoma also occurs relatively often in people of younger ages.
Jo Trask, from the mobile information team, said: "Most skin cancers are caused by exposure to the sun.
"This may be long term exposure, or short periods of intense sun exposure and burning.
"Using sunbeds can also increase your risk.
"Our team will be on hand to answer questions about sun safety and for any other cancer-related queries."
For further information about Macmillan's mobile information service, and planned visits, go to www.macmillan.org.uk/mobileinfo
If you are unable to visit the unit but have questions about cancer, visit www.macmillan.org.uk or call Macmillan free on 0808 808 00 00 (Monday to Friday, 9am to 8pm).
You can find out about Macmillan services near you at: www.macmillan.org.uk/inyourarea