MP drops in to support Dementia Action Week
Date published: 31 May 2018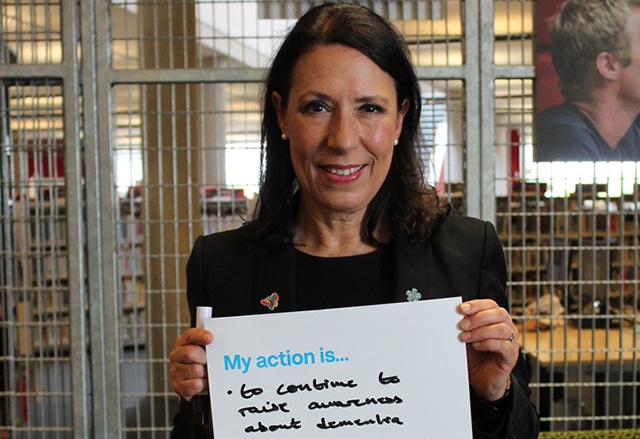 Oldham East and Saddleworth MP Debbie Abrahams shows her support
Alzheimer's Society's Oldham Singing for the Brain and Springboard Dementia Carers Group were joined by local MP Debbie Abrahams during this year's Dementia Action Week at an event hosted by Gallery Oldham.
The event attracted over 40 people and brought the ground-breaking music therapy programme into the heart of the community.
Hazel Przewoźnik, Dementia Support Worker at Alzheimer's Society, said: "This year we asked people to come together to unite against dementia by taking actions, big or small, to improve the everyday lives of people affected by dementia.
"In the UK, one person develops dementia every three minutes and almost everyone knows someone whose life has been affected.
"Yet too many people face the condition alone without adequate support.
"Activities like the Singing for the Brain event at Gallery Oldham illustrated how taking action can help people affected by dementia to feel more included in their community and able to live the life that they want.
"Being joined by Springboard Dementia Carers Group, and having the support of Gallery Oldham and the local MP Debbie Abrahams, is a vital step towards making Oldham more dementia friendly."
Mrs Abrahams, MP for Oldham East and Saddleworth, attended the event to show her support for those affected by dementia living in Oldham, and committed to take action this Dementia Action Week.
She said: "I was delighted to join Alzheimer's Society's Singing for the Brain group to show my support for the important work that they do in Oldham and across the country.
"During Dementia Action Week I committed to continue raising awareness about dementia and as part of my role as Co-Chair of the All Party Parliamentary Group on Dementia, I also committed to our enquiry into disability and dementia."
Singing for the Brain is a programme developed by Alzheimer's Society for people with memory problems.
The Singing for the Brain programme promotes communication through singing which can help with articulation, concentration, focus and motivation.
Specially trained facilitators deliver a varied programme of vocal, rhythmic and gentle physical exercise and dance, along with songs from different eras and styles.
Around 30,000 people are living with dementia in Greater Manchester, and a separate new Alzheimer's Society survey of over 2,300 UK adults has highlighted the stigma and misunderstandings around the condition that contribute towards the isolation so many people affected by dementia feel:
51% of people in Manchester reported not feeling confident even visiting someone with dementia in a care home
60% of people in Manchester said they wouldn't feel confident in knowing how to help someone with dementia if they saw them struggling in a public place.
Nearly half of people (49%) in Manchester saying they didn't know enough about dementia.
Half (50%) of people with Manchester thought people with dementia shouldn't be left on their own, 39% that they need constant supervision.
Nearly (61%) of people in Manchester say dementia is their greatest concern for old age ahead of being lonely/going into a care home/not having enough pension.
The Alzheimer's Society charity provides information and support.
To find out more call the National Dementia Helpline on 0300 222 1122 or visit alzheimers.org.uk