All the fun of the Summer Fair!
Date published: 12 June 2018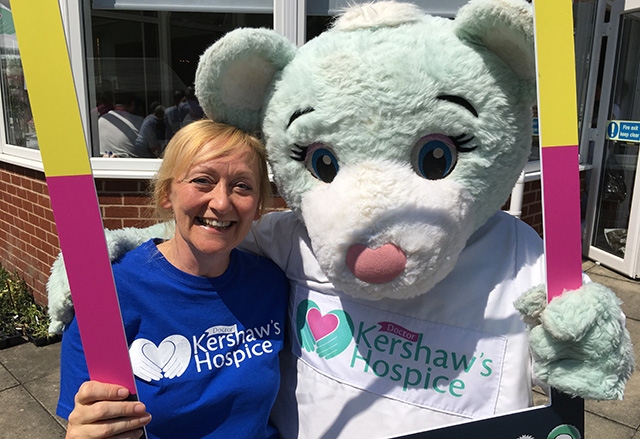 CEO Joanne Sloan with Hospice mascot Hope
Scorching temperatures and brilliant blue skies attracted bumper crowds to the annual Dr Kershaw's Hospice Summer Fair.
Hundreds of visitors flocked to the event held in the grounds of the Hospice on Turf Lane, Royton.
There was something for all the family and a great atmosphere from the very start when the day kicked-off with a performance from the Oldham Scottish Pipe Band.
The tartan pipers were greeted by warm applause and also gave an impromptu performance for some of the Hospice's in-patients who were able to get a close-up view through the open windows.
Dance interludes were provided throughout the day by the Suzettes and the Street Jammers, while visitors were able to sit amongst the gardens or stroll through the myriad of stalls.
The Lucky Dip and Tombola stalls proved as popular as ever and sold out, while the new-look Café K was able to make good use of the sunshine to do a brisk trader as customers spilled out from the extended café and into the patio and gardens.
Home-made and home-baked goods also proved a hit while there was also plenty for the younger generations to keep them entertained including a bouncy castle and slide, a petting zoo with goats and chicks, face painting and henna.
Commercial stall holders also supported the Hospice by making donations whilst Hospice stalls boosted the monies raised – including young fundraiser Keira Arnold, who is in the running for a couple of national and regional awards, who raised nearly £200 by selling her popular range of Dreamcatchers.
Vicky Stackhouse, event organiser, paid tribute to the host of volunteers who made the event go smoothly and to the people of Oldham for their whole-hearted support.
And Joanne Sloan, the Hospice Chief Executive, added: "There was a really lovely atmosphere to the whole day and everybody seems to have had a lovely time."