Go and enjoy a Blooming Great cuppa!
Date published: 09 July 2018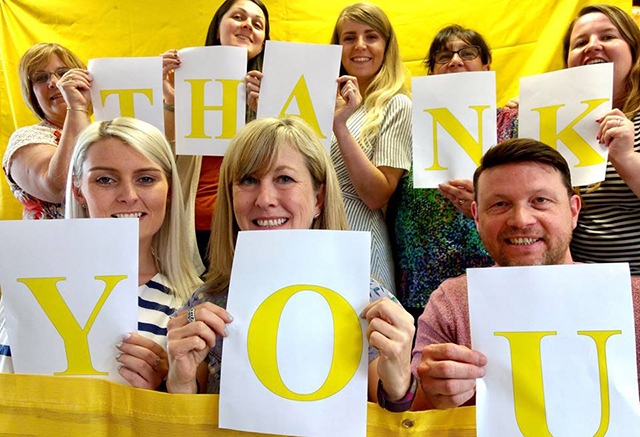 The Marie Curie NW fundraising team
This summer people in Oldham have brewed, baked and bruleed all in support of Marie Curie's Blooming Great Tea Party to help support people across the UK who have been affected by a terminal illness.
The generosity shown in the Oldham areas means that the terminal illness charity will be able to reach more people that need its help with vital nursing care, emotional support, research and its free helpine for people with a terminal diagnosis and their loved ones.
Lynn Partridge, Marie Curie Community Fundraiser in Oldham, said: "As we begin to pack up the bunting, wash the tea cosies and move to a new belt-notch after too much cake, it's time for me and everyone at Marie Curie to shout a huge thank you to Oldham.
"Whether you shared tea and biscuits with a few chums, or had the whole village round for a summer fete, every pound you have raised means that Marie Curie Nurses will be able to care for more people, our research teams will help improve the care they receive, and our campaigners can fight to ensure that, at the end of our lives, we all receive the support we need when we need it most. Thank you."
With the heatwave set to continue well into July, there is still time for people to get involved and throw their own Blooming Great Tea Party this summer.
World Cup office parties, Wimbledon strawberry and Pimms soirees, or a simple picnic in the sun would be great ways to get together with friends, families and colleagues and raise money for a vital cause.
Sign up today at: www.mariecurie.org.uk/teaparty
Marie Curie are counting on your cuppa!