BHF seeks more fund-raisers in Oldham
Date published: 11 July 2018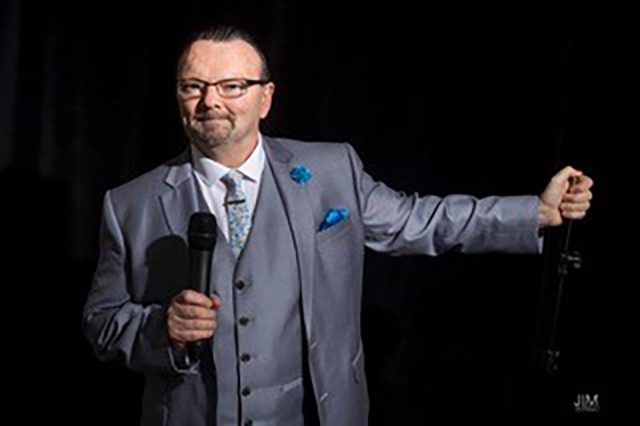 Comedian Dom Collins
The British Heart Foundation (BHF) is proud to have fundraising happening in Oldham for life-saving heart and circulatory research, but more volunteers are being sought.
Around 23,900 people across Oldham are fighting a daily battle with heart and circulatory disease.
Each year these devastating conditions claim the lives of more than 542 people in Oldham alone.
Local comedian Dom Collins is choosing to support the BHF by offering his services.
Dom said: "I considered myself in reasonable shape, having been a runner completing in marathons in my time.
"One morning in 2017 I was feeling out of breath and as my Dad had died of a heart attack I took myself to the GP.
"If my Dad hadn't had a heart attack I would have probably ignored my symptoms of breathlessness that were mild to say the least.
"Looking back I am glad I took action and made that call to my GP.
"Being a comedian I get asked on a weekly basis to support many charity events for different causes, but after the past few months, I have pledged to support the British Heart Foundation.
"Simply because I have seen the brilliant work they are doing on a daily basis to keep people like me alive and I am proud to have the lifesaving research happening in Manchester."
While there is plenty of fund-raising happening in Oldham, the BHF is looking to grow the number of volunteers in the Oldham area.
The BHF is calling people in Oldham to take heart and keep more hearts beating by becoming part of their local fundraising group and raising vital funds for heart and circulatory research.
Fundraising groups are the face of the BHF in their local communities.
From running fundraising events to supporting schools and local businesses and organising collections, they are a fantastic way to support our vital work.
Natalie Bunyan, BHF Fundraising Manager for Greater Manchester East, said: "Heart disease is heartless.
"Too many lives are lost in Oldham each year, and we're determined to do everything we can to protect more families from this devastation.
"By supporting the BHF by fundraising or volunteering as part of the Oldham Fundraising Group, volunteers will be able to help us fund the research that's so desperately needed to bring us closer to beating heart disease and keep more hearts beating.
"We are incredible proud to have 57 research projects at the University of Manchester and together we can save more lives."
BHF research has helped halve death rates from heart and circulatory disease over the past 50 years, but there is still a long way to go.
Through the public's generosity the BHF will fund half a billion pounds of new research over the next five years.
For more information or to find how you can support the BHF, please visit: www.bhf.org.uk/localfundraising or contact Natalie Bunyan, BHF Fundraising Manager for Greater Manchester East, by emailing: bunyann@bhf.org.uk
---
Do you have a story for us? Want to tell us about something going on in and around Oldham? Let us know by emailing news@oldham-chronicle.co.uk , calling our Oldham-based newsroom on 0161 633 2121 , tweeting us @oldhamchronicle or messaging us through our Facebook page. All contact will be treated in confidence.