Are you at risk of developing diabetes?
Date published: 07 November 2018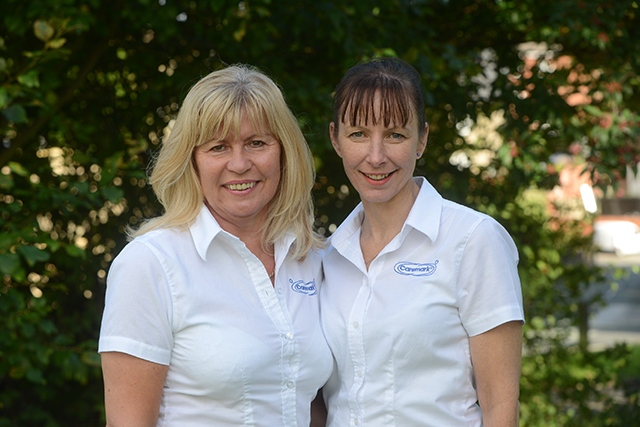 Stephanie Doherty (left) and Helan Graham from Caremark Oldham
It's estimated that 3.7 million people in the UK are living with diabetes, with many developing the condition later in life.
Undoubtedly, recognising the signs of diabetes early benefits everyone – the sufferer, their loved ones and the clinicians who support with treatment.
It may also be of no surprise that age, weight and certain lifestyle choices play a significant role in developing diabetes.
In an effort to raise awareness of the condition in time for World Diabetes Day on November 14, local care experts, Helan Graham and Stephanie Doherty, of Caremark Oldham, give their top tips on how to recognise the signs of diabetes and the key differences between the different types.
Type 1 diabetes
Type 1 diabetes, the less common of the two prevalent strains, has nothing to do with lifestyle.
In fact, despite significant research, the cause is still unknown. It occurs when the immune system destroys the cells which create insulin – the hormone that helps move glucose into the body's tissue.
Without insulin, the glucose remains stagnant in the blood stream and cells are starved of the nutrients they need, causing abnormally-high blood sugar levels.
Symptoms
1. Needing to use the loo more frequently
2. Extreme thirst
3. Exhaustion
Type 2 diabetes
Type 2 diabetes affects approximately 3.3 million in the UK. It is usually caused by certain lifestyle choices, with obesity, a lack of exercise and poor diet contributing to the condition advancing.
Considering these factors, the elderly are deemed to be more at risk of developing the condition, as they become less active and have less control over their diet and routine with advancing years.
Unlike Type 1 diabetes, the body still produces the insulin required, but doesn't use it as it should.
Initially, the pancreas will create more insulin in an attempt to get glucose into the cells, but the body then can't cope with the increased amount, so sugar builds up in the blood stream.
Being overweight is one of the most common causes of Type 2 diabetes, as the body can't break down the intake of excessively sugary or fatty foods.
Symptoms
1. Increased thirst or dry mouth
2. Increased hunger – more often than not, soon after eating a full meal
3. Headaches, blurred or slow loss of vision
4. Needing to use the loo more frequently
5. Sudden or unexplained weight loss
6. Slow healing cuts, sore or itchy skin
7. Tingling in the hands and/or feet
8. In severe case, loss of consciousness.
Due to the slow development of one, two or all of these symptoms, many Type 2 sufferers don't even know they have it – in fact, it's estimated that one in four people with Type 2 have no idea that they've been living with the condition.
The long-term health implications can vary, but in some cases, can result in sight loss, stroke and life-threatening heart conditions.
Helan and Stephanie said: "If you recognise any one of these signs, contact your local GP, who can offer support in diagnosis.
"It's important to understand that, although there's no formal cure for any of the strains of diabetes, medication and small lifestyle changes often provide a better quality of life for sufferers.
"Perhaps look to loved ones, family and friends for support in maintaining treatment.
"At Caremark Oldham, we've put measures in place to ensure that our clients who suffer from Diabetes are assisted with their daily routine, meaning they feel assured that their health is prioritised."
For more information, visit: www.caremark.co.uk/oldham/
Visit the Diabetes UK website to calculate your risk of developing diabetes.
---
Do you have a story for us? Want to tell us about something going on in and around Oldham? Let us know by emailing news@oldham-chronicle.co.uk , calling our Oldham-based newsroom on 0161 633 2121 , tweeting us @oldhamchronicle or messaging us through our Facebook page. All contact will be treated in confidence.