Students need a head for heights at Oldham school
Date published: 25 January 2019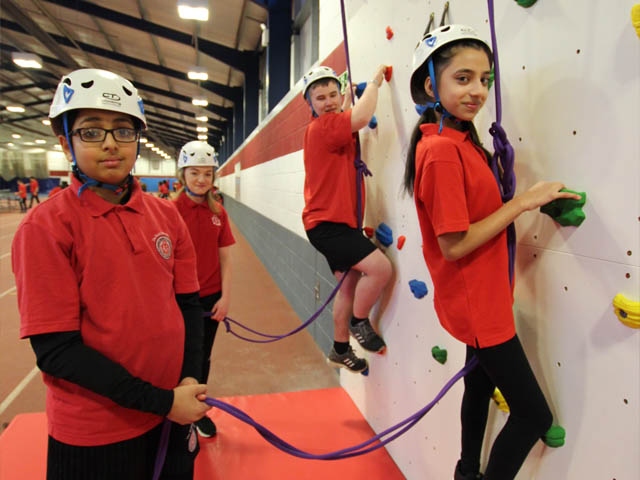 Learning the ropes, (L to R) Baaz Khan, Olivia Ogden, Regan Kennedy and Sadiya Saleem
Students at The Radclyffe School will be developing a head for heights from this week, as a six-metre climbing wall takes shape.
The latest addition to the outstanding sports and PE facilities at the Chadderton school will enable students to learn climbing, traversing and bouldering.
The school arranged for a length of wall otherwise unused to undergo the transformation to a high-quality facility.
Climbing Wall Solutions have designed and built the wall within the Sports Village at The Radclyffe School.
The school recently received the School Games Platinum Mark for the quality and breadth of opportunities in sport, and students are looking forward to using the new facility.
Across 30 sq. m of wall, individual climbing holds attach to the wall, which can be moved to create new climbing routes, so the wall is suitable for all ages, abilities and level of experience.
Safety is a priority in the design, and high-quality crash mats sit at the foot of the wall to minimise any risk of injury.
Climbing is one of the fastest growing sports in the UK and worldwide, and was recently recognised as an Olympic discipline.
Head of PE Simon Mellor said: "We are excited to start using the wall, developing students' skills in this activity.
"Climbing builds strength and endurance, but also helps students mentally as they have to plan a route, develop trust and build their teamwork to achieve goals.
"The wall is a wonderful and popular addition to the facilities we already offer."