Royal Oldham Hospital marks World Cancer Day
Date published: 05 February 2019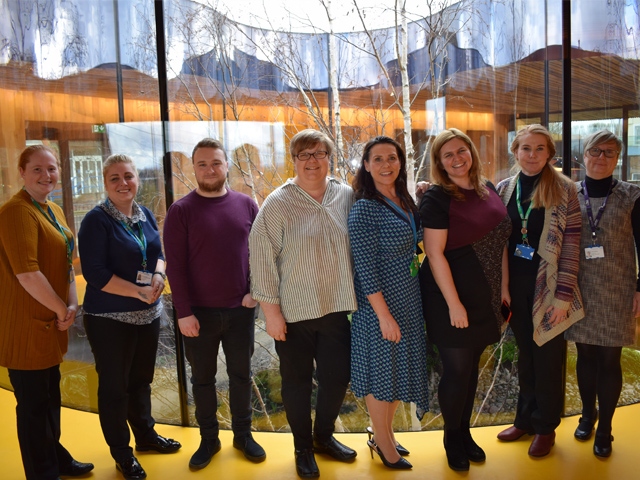 Maggie's Centre and Macmillan Cancer Support Staff at the Maggie's Oldham World Cancer Day open day event
Staff at The Royal Oldham Hospital supported World Cancer Day on Monday 4 February by joining with local healthcare partner organisations including Maggie's Oldham, Macmillan Cancer Support and The Christie at a special open day event.
The event, hosted by Maggie's Centre Oldham, highlighted the great range of support services available to patients and those affected by cancer.
Maggie's Centre Oldham, which is based in the grounds of The Royal Oldham Hospital site, threw its doors open to staff, patients and local residents and invited everyone to come along and have a look around the great facilities available, meet the team and find out more about the fantastic programme of support available to people living with cancer, and their families and friends.
Maggie's is a warm and welcoming place, with a team of professionals on hand to provide an evidence based, high quality programme of practical, emotional and psychological support to anyone affected by cancer.
One of the visitors to the event was patient, Kim Langford from Moston, who said: "I found out about the support that Maggie's offers to patients whilst being treated for breast cancer by Miss Maria Bramley, Consultant at North Manchester General and I thought I'd give it a try.
"I knew as soon as the Maggie's team clearly explained my treatment and options on my first visit that I'd be okay.
"Maggie's have been a key part of my cancer journey and sometimes the only way I could get through it. They have been a mental safety net during some tough times.
"They're like a family to me. Their advice and support have been worth their weight in gold."
Trish Morgan, Centre Head at Maggie's Oldham said: "World Cancer Day provides a moment to stop and think about just how many people are affected by cancer and also highlights to us perhaps how many people aren't aware of the services available to them.
"We want to ensure that everyone who may need our support knows that at Maggie's we support people with cancer, and their family and friends, at any stage of their journey, from diagnosis, through treatment, to end of life and bereavement.
"You don't need an appointment or referral to come to Maggie's; you can drop in at any time and access our support for as long as you may need it.
"We are delighted that we have had an opportunity to showcase the range of services available to people across our local area, who work collaboratively to ensure that anyone affected by cancer has the best possible support and experience and that no one need face cancer alone."
Helen Wrench, Macmillan Project Lead for the Living With and Beyond Cancer programme was also available to provide patients with information about the Macmillan Recovery Package and the support their charity is also able to offer.
This includes a range of support including a holistic needs assessment, which helps patients to identify a personalised care plan, a treatment summary and access to a range of health and wellbeing events in their local area.
Helen said: "World Cancer Day is a great opportunity to remind patients and staff about the great information and support services that they can access in their local area. Macmillan, Maggie's Centre and The Christie at Oldham are all working together to offer patients and people affected by cancer a comprehensive range of support and information to help them deal with the impact that a cancer diagnosis can have.
"We all want to ensure that cancer patients and their families receive the best care, advice and support they can."
Advice, support and information is also available to patients and those affected by cancer from the Macmillan Cancer Information and Support Centres, which are based at The Christie at Oldham and North Manchester General Hospital (near the Gallery Restaurant).
Both centres serve patients in Oldham, Bury, Rochdale and North Manchester.
The centres offer people the chance to talk in confidence alongside practical support, access to benefits and financial advice, information about local support groups and advice on how to talk to children about cancer.
No appointment is needed - you can simply drop into the centre or request that an officer from the team visits you on a ward.