Letter: Duchess of York asks readers to help fund British Heart Foundation life saving research
Date published: 20 September 2017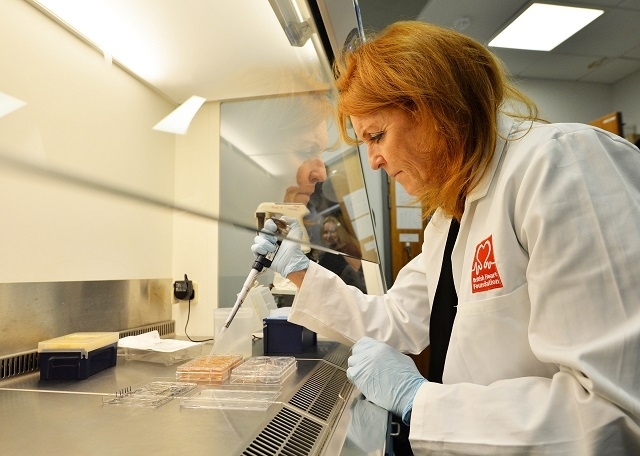 Photo: British Heart Foundation
The Duchess of York at the William Harvey Heart Centre
Dear Editor,

This September is 'Women and Heart Disease Awareness Month' at the British Heart Foundation (BHF), a cause I feel extremely passionate about.

On 20 September I was officially announced as a BHF Ambassador, marking the occasion by spending the morning at The William Harvey Heart Centre, Queen Mary University of London, where the BHF funds life saving heart research.

I spoke with BHF researchers at the university about research they are doing into pre-eclampsia, the leading cause of death worldwide for women during pregnancy and heart transplant rejection. This research is of particular interest me as my mother was previously diagnosed with pre-eclampsia.

It is estimated that globally around 76,000 pregnant women die each year from pre-eclampsia and related hypertensive disorders. Whilst at Queen Mary's I also met various women who are fighting a daily battle with heart disease.
These women included Bina Ghelani and her baby Aarya. Bina was diagnosed with pre-eclampsia when she was 32 weeks pregnant with Aarya. Thankfully they both made a full recovery but this is something no family should have to face.

It is a very sad reality that coronary heart disease remains the UK's single biggest killer. It kills twice as many women as breast cancer. In the North West there are 840,000 people alone living a daily battle with cardiovascular disease. 18,000 lives are lost every year in the North West because of these devastating conditions.

There is hope. The BHF currently funds 69 research projects at Institutions across North West to help fight this heartless disease.

I would like to encourage all readers to help fund the BHF's life saving research this September by donating any unwanted items to your local BHF shop. I have already donated a bag of my unwanted items to the BHF's Bag It Beat It (BIBI) campaign, their annual stock donation campaign this September so you all must! The BHF has a 1 million bag target throughout the month. Your donations really are a life savers.

For more information on the BHF and their Bag It Beat It campaign visit www.bhf.org.uk/bagit. To book a free collection call, 0808 250 0024.

Yours,

The Duchess of York
Ambassador for the British Heart Foundation
The views expressed are those of the author of the letter and not those of Oldham Chronicle.