Letter: Help put an end to dangerous restraint being used in hospitals
Date published: 30 October 2017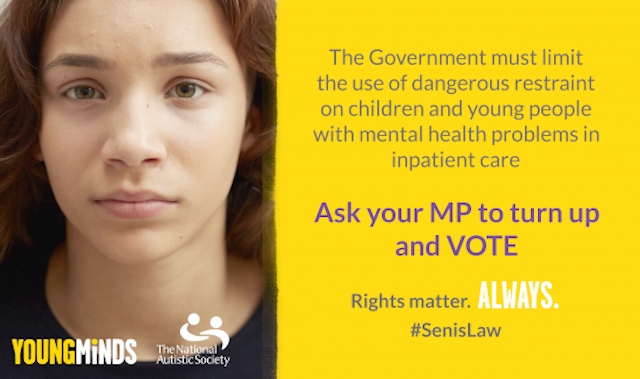 The Always campaign, from YoungMinds and the National Autistic Society
Dear Editor,
Good inpatient care acts as a lifeline to many young people, who get the expert support they need to get better and return home.
But practices like face-down restraint can cause psychological damage and physical injury for some of the most vulnerable children in our society.
The Always campaign, from YoungMinds and the National Autistic Society, has been calling for strong, enforceable rights to protect children in mental health hospitals, and their families, when they need it most. More than 10,000 people signed the petition for change.
On 3 November, the Mental Health Units (Use of Force) Bill will be debated by MPs.
The Bill is being referred to as Seni's Law, named after a young man called Seni who was tragically killed in a mental health unit due to being physically restrained.
If it becomes law, it will limit the use of some of the most dangerous forms of restraint.
3 November is a Friday when MPs usually spend the day in their constituency.
So, they need to know how important it is to you, as one of their constituents, that they instead go to Parliament to support the Bill.
Concerned readers can send a message to our MP using the form on this page. It only takes a couple of minutes, and it could make all the difference.
This can be done at:
https://act.youngminds.org.uk/help-us-put-end-dangerous-restraint-being-used-hospitals
Thank you.
Yours,
Andrew Wastling
The views expressed are those of the author of the letter and not those of Oldham Chronicle.