Are you related to WWII hero Douglas?
Date published: 19 March 2018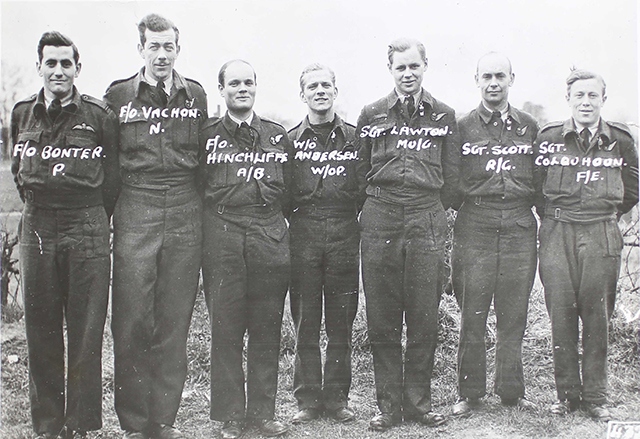 Sergeant Douglas Colquhoun, from Oldham, is pictured (far right)
Editor,
I work as a volunteer in Germany (North Rhine-Westphalia), in ground monument conservation (archaeology).
For some years now, World War II has been part of archaeology.
I do aerial archaeology with a team of volunteers, i.e. we investigate plane crashes during World War II, search for crash sites and hopefully determine the fate of the crews.
For a few weeks we have found in Erkrath, a small town south-east of Düsseldorf (south of the Ruhr Valley), the remains of a Halifax type MK VII.
Through entries in the Erkrath death register we were able to prove that the bomber is the long-lost NP689.
The NP689 was called 'Moonlight Mermaid'.
The MK VII is one of the most famous Halifax's in all of the Royal Canadian Air Force.
The NP689 had flown 80 combat missions and was shot down on its 81st mission (on March 15, 1945, attack Hagen).
One of the crew members was Sergeant Douglas Colquhoun from Oldham, who died in the crash.
I am currently in contact with some family members of the other crew members from Canada, but I haven't found any of Douglas's family members from Oldham yet.
If anyone out there would like to contact me about Douglas, please feel free.
Sven Polkläser
Email: sventleman@gmx.de
The views expressed are those of the author of the letter and not those of Oldham Chronicle.