Medical team at South Chadderton Health Centre grateful to kindness of patients
Date published: 30 April 2020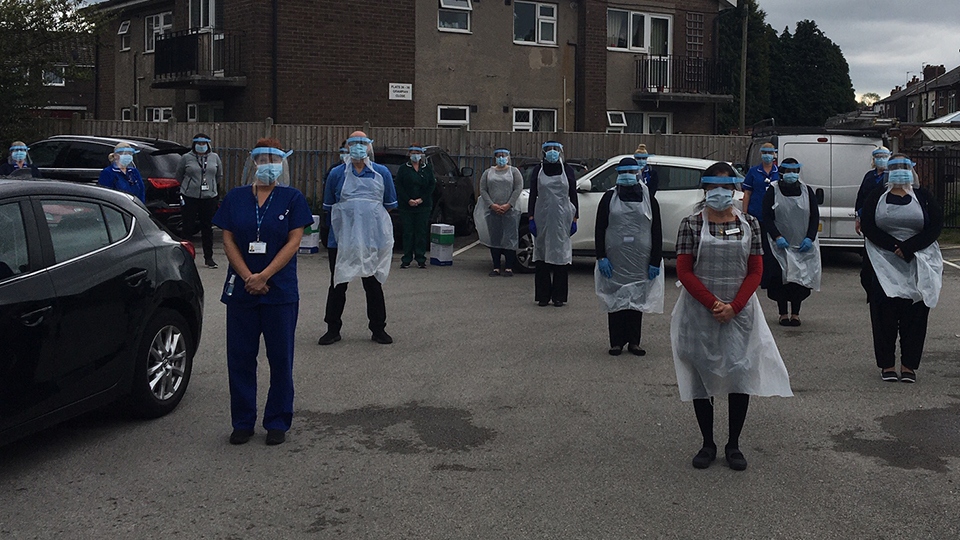 Staff at South Chadderton Health Centre
Dear Editor,
I am just one of the lucky GPs in Oldham who has been provided with medical mask by one of my registered patients.
We try to make sure we're at least 1m from each other, in particular from those with patients presenting with coughing and sneezing and also performing hand hygiene frequently using an alcohol based rub.
Doing baby assessment and baby immunisation, smear test and urgent blood tests, observing a physical distance of at least 1m is not possible.
Same goes for District nurses when they go for home visits.
The covid-19 outbreak is expected to last until spring 2021, with around 80% of the population infected and up to 15% (7.9 million people) requiring admission to hospital in the UK, Public Health England has said in a briefing document.
The document—based on reasonable worst case scenarios said that of the 5 million people who work "in essential services and critical infrastructure" including 1 million NHS staff and 1.5 million social care staff could be off sick at any one time.
Don't panic—the most important thing. The second is hygiene—keep a distance from people of at least a metre and avoid handshaking.
But as a GP and a nurse whether Practice nurse or District nurse you have to see patients. Yes, we all triage our patients before asking them to attend the surgery or DN clinic.
Most of GPs are doing telephone and video consultations including chronic disease review, medication reviews.
Video consultation is unlikely to be appropriate for ill patients when a patient needs to be seen or when co-morbidities affect the patient's ability to use the technology (unless relatives are on hand to help).
If the clinical decision demands, patient to attend the surgery or District nurse clinic, we need appropriate PPE.
Instead we have been provided with, what I would call, cosmetic PPE -a small mask, gloves and plastic pinny.
What about when PN has to do urgent bloods, baby immunisations, urgent smear test, DN has to do dressings, insulin or other important injections - wearing an appropriate medical mask is important.
WHO has given the advice to decision makers so that they apply a risk-based approach as to what mask to wear.
Is it safe to provide the care without appropriate PPE?
WHO has stressed again and again that it is critical that medical masks be prioritized for health care workers.
What masks health care workers should wear is detailed in the guidance.
As a GP, on behalf of my team and DN team I am so grateful to Nicholas Wraith of Unibox Ltd who has provided us the appropriate masks free of charge.
I just want to say thank you to our patients who are looking after us.
Kind regards,
Dr Anita Sharma
---
Do you have a story for us? Want to tell us about something going on in and around Oldham? Let us know by emailing news@oldham-chronicle.co.uk , calling our Oldham-based newsroom on 0161 633 2121 , tweeting us @oldhamchronicle or messaging us through our Facebook page. All contact will be treated in confidence.
The views expressed are those of the author of the letter and not those of Oldham Chronicle.