Greenhill celebrate pitch re-opening in style
Reporter: Simon Smedley
Date published: 23 March 2018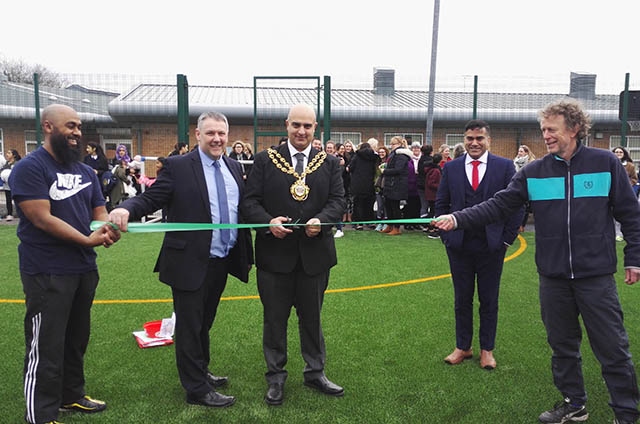 The new Greenhill Academy pitches are officially opened by Mayor of Oldham, Cllr Shadab Qumer
Scroll down for Video
An action-packed primary school staff football tournament took place to mark the official re-opening of the all-weather pitches at Greenhill Academy on Harmony Street, Oldham.
Organised by the school's Sports Coordinator and Primary Link Teacher Aminur Rahman, dignitaries on hand to witness the ribbon-cutting and watch the action unfold included the Mayor of Oldham, Cllr Shadab Qumer, Mrs Melanie Eccles, Executive Principal at Greenhill Academy, Head John Padley, and Sajhen Bakht, who is Vice Chair at the Harmony Trust.
Funding for the re-laying of the pitches came jointly from the Harmony Trust and a number of external bodies, and it is sure to prove popular with local sports fanatics of all ages.
"This will be a community asset too," said Mr Rahman.
"It's nice that everyone enjoyed the pitch today, and hopefully everyone will try and join in with that healthy youth lifestyle that we at Greenhill have always believed in.
"Healthy lifestyle goes with the school's ethos.
"We always try to encourage healthy eating and activity all the time.
"It's important that we implement these type of things at an early age, then hopefully later on in life they'll carry that on."
The six teams who completed in a round-robin football tournament on opening day were from Greenhill, Westwood, Alt, Northmoor, Alexandra Park, and a side from local community club Red Star Bengal.
Westwood eventually emerged as champions after each team played five games, but everyone involved was a winner on the day.
Mrs Melanie Eccles, Executive Principal at Greenhill Academy, and Aminur Rahman, Sports Coordinator and Primary Link Teacher, talk about the re-laid sports pitch at the school