Hopwood Hall students show a keen eye for business
Date published: 11 April 2018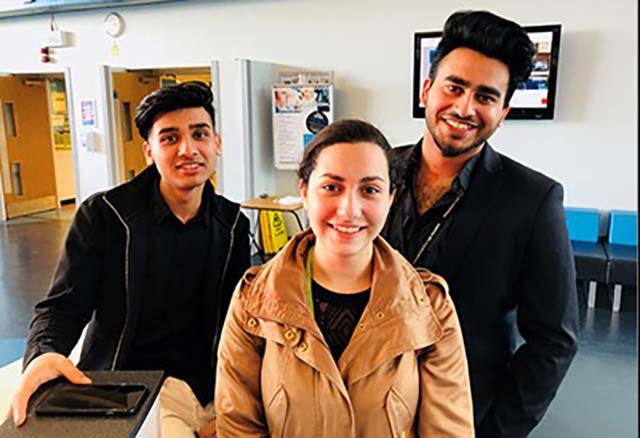 ESOL's winning team - Sandra Abdelmalek, Aalyan Farook and Mohammed Mohsin Imtiaz.
Students studying English for Speakers of Other Languages courses at Hopwood Hall College ran their own business fair in aid of Cancer Research.
The ESOL Entrepreneur's Fair was run by the College to inspire young people with the spirit of enterprise and develop their employability skills by offering real-world work experience in the UK.
Hopwood Hall College tutors gave each of the 20 teams £10 seed money to invest and tasked them with putting a business idea into practice.
The groups would then market their ideas to other students and staff at the College, with the top group being rewarded with free tickets to the Sandbrook Park cinema.
As the students enrolled on the courses originate from countries around the world, their business ideas were similarly diverse and creative.
Hopwood Hall College's Rochdale campus was taken over with cake stalls, world food delicacies, global-themed competitions, henna artists, book sales and market stalls.
Overall, the students raised over £380 for the College's charity of the year, Cancer Research UK.
The winning team managed to take over eight times their initial investment,
Sandra Abdelmalek, Aalyan Farook and Mohammed Mohsin Imtiaz saw a return of £81.33 from their world foods stall.
ESOL student, Sandra said of her team's business success: "I really enjoyed this project because it helped me to understand work and business, as well as how to make a profit as a private venture.
"I enjoyed the experience of selling things and the fair made for a really positive atmosphere at the College.

"We took over the whole campus and it was really great to see all my classmates getting involved, having fun and being successful."

ESOL Programme Manager, David Perry, said of his students' efforts: "All the groups who took part were a credit to themselves.
"Finding the winners was very difficult, as a number of groups made a fantastic profit from their initial investment.

"The fair is a great opportunity for the students to develop employability skills to take back out into the surrounding community,
"I hope they make the most of it as many of them clearly have a keen eye for business."