University offers aplenty for two dedicated Oldham students
Date published: 16 April 2018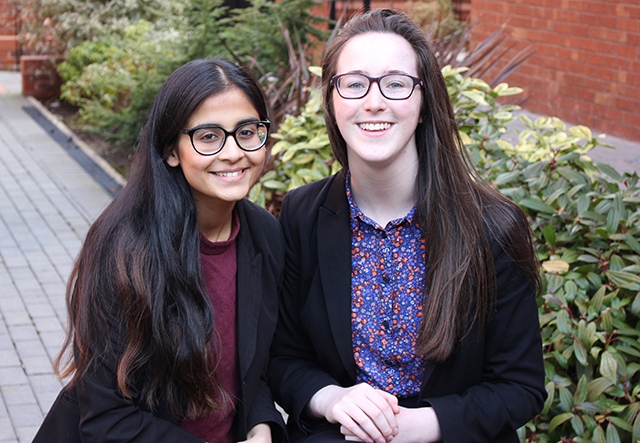 From left, Manchester High School for Girls students Shazia Absar and Eleanor Fidler
Two Oldham teens have each secured four offers, the most possible via the UK university admissions process, to study for a degree in Medicine this September.
Medicine is widely acknowledged as one of the most competitive courses to get on, with some universities known to have over 50 applications for every one place.
Eleanor Fidler (aged 18) from Failsworth and Shazia Absar (17) from Lees are Sixth Form students at Manchester High School for Girls.
Both are studying A-levels in Biology, Chemistry and Spanish and are on course to secure top grades this summer.
Shazia is also undertaking a fourth A-level in Mathematics.
Eleanor, Manchester High's Head Girl, has received offers from the University of Manchester, University of Liverpool, University of Leicester and the University of St Andrews.
While looking forward to experiencing a variety of placements at university, Eleanor is currently leaning towards working in the field of emergency medicine.
She has completed a 'taster day' at The Royal Oldham Hospital, where she also volunteers throughout the year on a patient discharge ward.
Eleanor said: "Applying for medical school is challenging and competitive; universities are looking for more than just top grades.
"I think that my volunteering work has certainly supported my applications, demonstrating a real commitment to working in a hospital environment.
"I am very grateful to everyone at the Royal Oldham Hospital for all their help and support.
"During my time at Manchester High I've particularly benefitted from the Sixth Form mentoring scheme that pairs current students with members of the alumnae community.
"Your mentor is on hand to give one-to-one advice about further education, careers and life beyond school.
"I've had the same mentor for two years and the relationship has been so valuable, we've run through practise interview scenarios and I've even managed to shadow her at her GP practice."
Shazia, who is a Deputy Head Girl at the school, has secured offers from the University of Edinburgh, University of Birmingham and Barts and the London School of Medicine and Dentistry, part of Queen Mary, University of London.
Her fourth offer is from none other than the University of Cambridge.
Of her achievement, Shazia said: "My ambition is to lead medical research that has a positive and life-changing effect on people's health.
"At Manchester High, Sixth Formers can undertake the Extended Project Qualification which is an opportunity to investigate and delve into a specific area of personal interest.
"I chose to do mine on advances in neuroscience and the impact this has had for sufferers of Alzheimer's disease.
"This is something I would love to take further at university and into my professional career.
"The teachers at Manchester High are really inspiring and truly believe their students can achieve the highest standards.
"Without them I'd never have found the self-confidence to apply for Cambridge."
Head Mistress of Manchester High School for Girls, Mrs Claire Hewitt, said: "The application process for Medicine is long.
"For the majority of medical schools you need to take an admissions test before they will even consider your personal statement.
"After that, for some medical schools there is one interview, for others, there are several.
"The universities aren't just testing academic ability, they're also looking for dedication, an ability to handle stress and a candidate's motivation for wanting to study medicine.
"Eleanor and Shazia are both exceptional students and valued members of our school community.
"I am not in the least surprised that they are 'in demand' students, wanted by some of this country's top universities.
"I know neither of them will be resting on their laurels and will continue to work hard as we move towards examination season."
Last year, over a quarter of students at Manchester High secured a string of straight A*s and As at A-level, with 88% of all grades being in the A* to B range.
The school is currently welcoming applications to its Sixth Form for the next academic year.
Visit www.manchesterhigh.co.uk for further information.