Mubashirah, Thomas shine brightest at the Student of the Year awards
Date published: 16 April 2018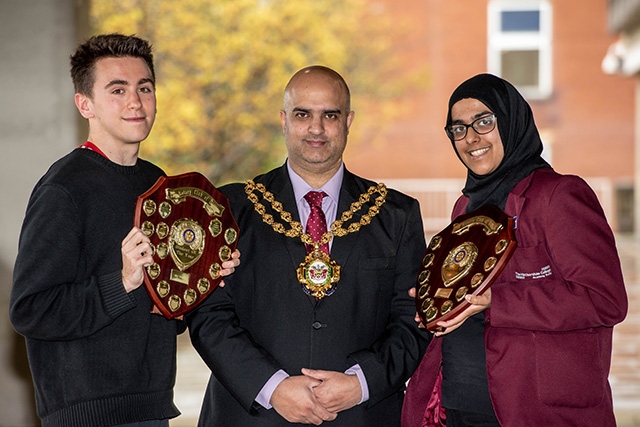 Students of the Year Thomas Tupman and Mubashirah Hanif with the Mayor of Oldham, Cllr Shadab Qumer. Picture by Darren Robinson
Scroll down for Video
Two of Oldham's brightest students were recognised for their considerable school year efforts at the 18th annual Student of the Year awards.
In the 11-16 age group, Hathershaw College pupil Mubashirah Hanif took the big prize at the Oldham Civic Centre showpiece, which was again backed and organised by the Rotary Club of Oldham.
A very creative person, Mubashirah is in Year 10 at Hathershaw and is involved in numerous initiatives both in and out of school.
She is on the Young Enterprise team at school, and has even started up two businesses, one in which is joint with her siblings selling beautiful, tasty cupcakes.
She also runs a stationery business called Marble by Mubashirah.
A delighted Mubashirah said: "My parents will be so proud of me.
"I do like to study. I want to go on and become a fashion designer when I get older."
The 11-16 age group runner-up was Luke Charnock, a Year 11 student at the Co-Op Failsworth Academy.
Luke has battled back bravely from a 2013 T-Cell Lymphona diagnosis, and is now an extremely valued school pupil.
The 16-plus age group winner was Thomas Tupman, a student at Oldham Sixth Form College.
He boasts a strong, single-minded determination to progress into his chosen profession, physical education.
He has volunteered 100 hours of his time to helping with sports coaching at College and at other local Oldham schools.
A delighted Thomas told the Chronicle: "I'm very proud of this award.
"It's the first official award or certificate that I've actually won.
"I wasn't even aware of the award until a couple of weeks ago.
"I'd love to become a PE teacher when I'm older."
The 16-plus age group runner-up was Sixth Form College student Iqra Ijaz.
She has worked tirelessly to ensure she maximises her potential, and she hopes to pursue a career in dentistry.
The Rotary Club of Oldham has been organising the Student of the Year awards for the last 18 years
They would like to thank this year's four main sponsors - First Choice Housing, Merinox Tubing Specialists, Oldham Sixth Form College and the Rotary Club.
The awards seeks to recognise students who are making or have made an outstanding contribution to their school, community or family, while maintaining high standards in their personal lives.
It is not purely about academic achievement.
Not only do the winning students receive an award shield that is theirs to keep for 12 months, they also receive prizes which were presented to them in the Oldham Civic Centre by the Mayor of Oldham, Cllr Shadab Qumer, and Rotary Club President David Halford.
Cllr Qumer said: "This has been an ideal venue to recognise such achievements.
"These youngsters are our future generation, and I'm sure each and every one of these students could go on to become first citizens also in the future.
"They all work so hard to achieve these kind of standards, and I've always been a true believer that you don't get nothing back unless you put that hard work in first.
"Thanks to the Rotary Club too, for organising such a great event."
Student of the Year winners Thomas Tupman and Mubashirah Hanif speak of their pride inside the famous old council chamber